At a Glance
Expert's Rating
Pros
Unique scene modes and art filters
F1.8 aperture at wide-angle end; F2.5 at telephoto
Control ring provides quick manual adjustments
Cons
Lacks a hand grip
Underexposed images in iAuto mode
Autofocus struggles in low-light and macro modes
A lot of menu-diving required
Our Verdict
When you compare the Olympus XZ-1's features with those of the vast majority of point-and-shoot cameras, it absolutely blows them out of the water. We're talking about things like an F1.8 lens, full manual controls and manual focus, raw shooting, a click-control ring around its lens to adjust in-camera settings quickly, exposure- and white-balance bracketing modes, a built-in neutral density filter, a 10-megapixel CCD sensor that's bigger than most, a hot shoe for various accessories, and a 3-inch OLED screen. Great things, all of those.
But the problem with premium compact cameras is that, despite outclassing the lion's share of point-and-shoots, they ultimately have to compete with one another. The Olympus XZ-1 ($500) is certainly a versatile camera with a great range of features, but it falls short of similar high-end cameras in one way or another, and novices might have a hard time getting the most out of it. This camera leaves quite a bit to be desired in Auto mode, and accessing most of its features requires a fair bit of menu-diving. Some of its more-enticing features—the control ring around its lens and its manual focus controls, in particular—are better implemented in some of its direct competitors.
The result is a very good camera that's likely to please its owners, but one that requires quite a bit of "quality time" to get the hang of. The good news is that most of the XZ-1's drawbacks can be fixed by using the camera's array of manual controls, but accessing those controls sometimes takes more effort than it should.
Hardware and design
No doubt about it, the marquee feature of the Olympus XZ-1 is its F1.8 lens; the camera offers that very wide aperture at its widest angle, as well as an impressive F2.5 maximum aperture at full telephoto. Its 4X optical-zoom lens reaches from 28mm to 112mm in 35mm film equivalent. It has a separate lens cap that fits on kind of loosely; when you power it on, the lens movement forces the cap off, and it fits more like a plastic canister lid than a form-fitting lens cap.
Like most of its premium point-and-shoot brethren, it offers a 10-megapixel CCD sensor that's physically bigger than the sensors found in most compact cameras, but nowhere near as big as the sensor found in your average DSLR. The camera has a Raw capture mode that lets you get the most out of your shots when editing and retouching them; in raw, the camera saves images as .orf files, anda Raw+JPEG option saves both image formats.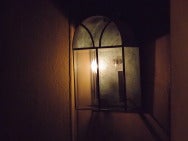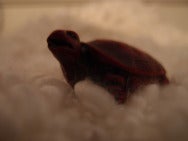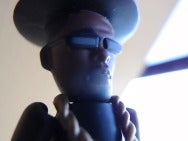 In addition to full manual controls over aperture and shutter speeds (5 seconds to 1/2000 of a second), the XZ-1 also has a dedicated "low light" setting accessible via the top-mounted mode dial, which opens up the aperture and uses the fastest possible shutter speed to capture a usable low-light shot without using the pop-up flash.
The results are a mixed bag: As long as there's some light to work with, the F1.8 lens captures usable low-light shots. However, it jacks up the ISO rather than slow down the shutter speed, and the resulting images often look way more noisy than you'd expect out of a higher-end camera.
Autofocus was also a common issue for me, especially in macro and low-light situations. The XZ-1 offers decent performance in macro situations—as long as they're very well-lit, and as long as you don't use its iAuto mode for close-up shots.
The camera's menus have two macro settings—a Macro setting for objects a couple of inches away from the lens, and a Super Macro setting for objects still closer than that. They both work well in good lighting, with impressively shallow depth of field. However, neither of the two macro modes kick in automatically when the camera is set to iAuto mode, and the camera has trouble locking in on a crisp shot in some situations. Autofocus searches quite a bit when objects are deemed too close to the lens, even when they're not all that close.
Pressing down on the directional pad in any of the camera's manual modes activates a continuous shooting mode, which fires off shots in rapid succession as long as you hold the shutter button. However, the continuous shooting modes boost the ISO to very noisy levels, so it's probably an option best used in broad daylight.
Those familiar with the control ring around the lens of Canon's PowerShot S95 will understand how to use the Olympus XZ-1's own version of the feature. You turn the control ring to adjust different in-camera settings depending on the shooting mode you're in, which generally saves valuable seconds of menu-diving: Aperture priority mode lets you adjust the f-stop using the ring, shutter priority mode lets you adjust shutter speeds using the ring, program mode lets you dial in the ISO, and so on.
However, the XZ-1 has a couple of notable drawbacks compared with the control ring on the PowerShot S95: first, you don't get the quick switching and customization of ring settings that you do on the Canon, which has a dedicated "Ring Function" button on its top; and second, you never get the option to use the control ring as a manual focus control, which hampers that feature significantly. Instead, you use the camera's back-mounted scroll wheel/direction pad to adjust focus manually. The customization options for the control ring are frustratingly limited to the contextual presets for each mode.
The Olympus XZ-1 also shares a less-impressive feature with the Canon PowerShot S95: the lack of a raised handgrip, which makes the camera slimmer but less secure for one-handed shooting. In general, build quality is solid, with the notable exception of the camera's pop-up flash. The flash simply feels too plasticky and snap-off-prone for a $500 camera.
The XZ-1's 3-inch OLED screen, however, is sharp and holds up fairly well in broad daylight. Although it doesn't have an optical viewfinder like the Nikon Coolpix P7000 and Canon PowerShot G12, you can at least "upgrade" to the Olympus PEN series' eye-level EVF, which can plug into the XZ-1's hot shoe. Other compatible accessories include Olympus's tentacle-like macro lights, a stereo mic for video capture, and PEN-series external flashes.
Another feature shared with both the P7000 and the G12 is a built-in neutral density (ND) filter, which lets you use slower shutter speeds with wide-open apertures. It's useful for capturing images of flowing water or other long-shutter/wide-aperture combinations, but turning the feature on and off takes a bit of menu-diving.
Shooting video is handled via a dedicated record button, which saves a bit of time when you're trying to capture action immediately. The XZ-1 shoots 720p video at 30 frames per second in AVI format, but you don't get the frame-rate options, resolution, or manual controls in video mode that you do with other cameras in its class.
In size, it's most in line with the not-quite-pocketable Panasonic Lumix LX5 or Samsung TL500, with a frame that clocks in at 4.3 inches wide, 2.5 inches tall, and 1.6 inches deep. It's not compact enough to be a comfortable fit for most pockets, although larger-size coat pockets are fair game.
All in all, given its versatility, this is a camera that could truly benefit from more physical controls and buttons. Its control layout is fairly basic, while the XZ-1's menu system is extensive, leaving a few too many useful features buried deep within menus. More quick-access controls and customization options for the control ring could have really boosted the XZ-1's overall ease of use. It has all the parts to be a category-leading camera, but it's missing the ability to access many settings quickly.
Performance, image quality, and video quality
Unfortunately for the Olympus XZ-1, our lab uses a camera's auto setting for its subjective image-quality testing in the realms of exposure quality, color accuracy, sharpness, and distortion. Similar to Panasonic's Lumix cameras, the XZ-1 underexposes images in its Auto mode, which led to word-score ratings of Fair for both exposure quality and color accuracy. Sharpness and lack of distortion were relative strong suits, however, as the Olympus XZ-1 earned ratings of Very Good and Good in those categories, respectively.
Click on the thumbnails to see the full-size sample photos used for our subjective testing.
In our lab's subjective tests for video quality, the XZ-1 turned in decent but unremarkable results for movie capture in bright light and low light. Our sample video shot in bright indoor conditions looked smooth, but muted in color and a bit underexposed. In low light, the camera brightens up the scene just enough to see what's going on, but color accuracy isn't one of its strong suits. The camera earned a score of Fair for video quality, and audio capture through its pinhole-like, top-mounted microphone was also rated as Fair.
The sample clips used for our subjective video tests are below. Select "720p" from the drop-down menu in the lower left corner of each player to see each clip at its maximum resolution.
The XZ-1's battery life falls in the "Good" range, with a CIPA rating of 320 shots per charge of its rechargeable lithium ion battery.
Scene modes and creative controls
Some of the best things about the Olympus XZ-1 are its unique scene modes, image-editing tools, and art filters, as well as its in-camera training guides.
In the scene-mode menus, a couple of selections stand out from the rest of the pack, which include now-ubiquitous offerings such as "Portrait," "Landscape," "Sunset," and "Fireworks." The camera's Panorama mode works differently from most, as the camera guides you through the three-shot panorama process in a video-game-like fashion: You line up an accelerometer-driven ball with a set of on-screen crosshairs, and the camera snaps each shot in sequence once it's properly lined up.
The other fun-and-unique scene mode is Multi Exposure mode, which overlays two consecutive images on top of one another for an artistic-looking shot. Alas, you can't change the relative opacity of each shot in the two-shot sequence, but the results can be pretty fun.
The creativity kicks up a few notches when you use the XZ-1's Art Filter modes, which let you do everything from mimic a tilt-shift lens (Diorama) to boost colors to ridiculous levels (Pop Art) to make everything look slightly ominous (Dramatic Tone). There are six Art Filter modes in all, and they're generally a lot of fun to play around with.
For your more traditional photo-editing needs, there's also a fairly extensive selection of in-camera editing utilities. You can brighten up shadowy areas with the "Shadow adjustment" tool, fix your family members' red-eye, adjust color saturation in shots, and do some basic image-cropping and resizing. The edits are applied to a copy of your original shot, so you retain an untouched copy of the source photo.
By pressing the center "OK" button in iAuto mode, the camera displays a menu of adjustable image effects ("Blur Background," "Change Color Saturation," "Change Brightness") that help novice shooters learn the basics of manual exposure tweaks without needing to understand the nitty-gritty of aperture settings, shutter speeds, and the like. Also in the mix are a few generic shooting tips for the best ways to photograph kids, pets, flowers, and food—although none of the information presented is mind-bogglingly insightful, except maybe when read as post-modernist haiku or zen koans. ("Focus on pet's eyes. Grab attention with food or toys.")
Macworld buying advice
The XZ-1 offers a nice mix of creative filters, tutorial modes, and advanced settings, but it has an imposing price tag, a sometimes imposing menu system, and a very imposing field of competitors. Pocketable powerhouses such as the Canon PowerShot S95 might be a better fit for casual users, while more-advanced cameras such as the Nikon Coolpix P7000 and Canon PowerShot G12 offer better overall performance out of the box. The XZ-1 also trails the premium point-and-shoot pack in terms of video quality; you're better off with the Panasonic Lumix LX5 or the PowerShot G12 if shooting video is high on your to-do list.
But it feels unfair to knock a camera that does so well once you master its manual settings. The XZ-1's blend of manual features and tutorial modes make it a good fit for experienced shooters or anyone who wants a pocketable camera they can get to know and ultimately grow into. Expect a learning curve, but one that ultimately offers some nice rewards at the end of it. As a point-and-shoot camera, it's fantastic. As a rival to the other cameras in its class and price range, it has room for improvement.