At a Glance
Expert's Rating
Our Verdict
Over the years, many a Macworld reader has asked for a way to be notified if caps lock is enabled. Depending on the person, this may be because they're a hunt-and-peck typist who spends more time looking at the keyboard than at the screen, or it may be because they're a great touch-typist who tends to look at things on the screen—say another document or a Web page—other than the document in which they're typing. In either case, they've wanted to avoid glancing up at said document to discover they've typed several sentences in all capital letters.
One solution I've covered is CAPS Warn, a menu-bar utility that displays a bright-red icon and sounds an alert whenever caps lock is enabled. But if you're already using the excellent Growl notification system, a simpler—but just as effective—option is Capster ( download link).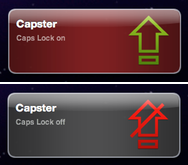 Launch Capster—it can run invisibly as a background-only application—and if you press the caps-lock key, intentionally or not, Capster pops up a Growl notification letting you know. Disable caps lock, and you get a Growl confirmation of that, too.
Because it uses Growl, you can customize Capster's alerts using Growl's System Preferences pane. For example, you can choose a different Growl display style and onscreen position for your Capster alerts than for other Growl notifications. You can also choose separate notification options (display style, priority, and alert sound) for when you enable caps lock and when you disable it—on my Mac, the caps-lock-on alert uses High priority (which means it pulses red) and an audible alert, while the caps-lock-off alert uses Normal priority and doesn't make a sound.
Capster's only other settings let you choose whether or not the utility displays a systemwide menu; and, if not, which keyboard shortcut you need to press to access these settings. If you choose to display the menu, you get several options for its menu-bar icon; whichever one you choose, the menu icon works much like CAPS Warn, changing its appearance whenever caps lock is enabled.
Because it relies on Growl for notifications, Capster doesn't have some of the unique options of CAPS Warn, such as the capability to warn you whenever you've typed more than a set number of capital letters in a row—say, if you typed them using the Shift key instead of caps lock. (These days, CAPS Warn can also notify you when other modifier keys are pressed.) I also found what appears to be a minor bug in Capster: If caps lock is enabled, pressing Shift produces the Caps Lock On alert. But Capster works well, and if you're already using Growl, Capster is a simple and easy way to get a convenient and popular feature.
Want to stay up to date with the latest Gems? Sign up for the Mac Gems newsletter for a weekly e-mail summary of Gems reviews sent directly to your Inbox. You can also follow Mac Gems on Twitter.