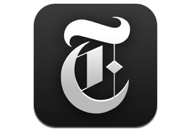 The Gray Lady may start to see a bit more green, thanks to its recently introduced digital subscription plans. On Thursday, The New York Times reported that it amassed more than 100,000 subscribers since March 28—the day the Times began instituting a limit on the number of articles visitors may read on its Website each month.
The Times's paywall works like this: Readers can freely read 20 articles each month at the Website, and certain articles (like those linked from Twitter and Facebook) don't count against your quota. To avoid that limit, you need to pay a minimum of $15 per month, which gets you unlimited access on the Website and via its smartphone apps (available for the iPhone, Blackberry, and Android devices). iPad app-based access to the Times costs $20 per month, and also includes full Website access—but not smartphone access. And if you simply want to consume Times content no matter what device you're using, you need the $35 per month All Digital Access plan. (There will be no quiz later.)
If you're playing along at home, you may be calculating 100,000 subscribers times a minimum of a $15 monthly subscription fee—but that would be a mistake. As the Times itself notes, "most subscribers have paid a discounted introductory rate of 99 cents for four weeks of access." But the paper adds that Janet L. Robinson, chief executive of the Times Company, says that the number of full-price renewals is strong.
The paper reports that the 15 percent drop in its site's overall traffic (in light of the article limits for non-paying readers) is consistent with its expectations.
There's a lot riding on the Times's digital subscription plans; the company reported that—thanks to ever-declining print advertising rates—net income fell 57.6 percent, to $5.4 million, compared to $12.8 million in the year-ago quarter. The company hasn't yet reported specifically on digital subscription revenue.