ABC Expedition, a $3 game from developer Meldmedia, offers an animal zoo. The game stars Captain Wallace, an accented character (of the non-typographic variety) who leads the alphabet expedition. The app's main menu presents a grid of colorful, clear capital letters; tapping on any visits the animal whose name begins with that letter.
Because of the limits of the English language, some letters link to less well-known animals—or at least ones that are a bit unlikely to appear in a real zoo. But the narwhal, urial, and x-ray fish are just as charming to visit as the lion and the monkey, so it's not a problem.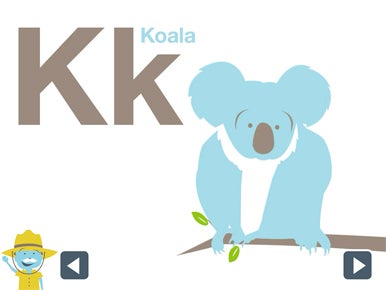 When you tap a letter, the delightfully drawn animal appears with an animated entrance, accompanied by realistic sound effects—the koala crunches leaves, and the rhinoceros runs around the screen before bumping into the capital R. Each animal is presented with upper- and lowercase representations of its initial letter, along with the written name of the animal in question.
Once the animal's entrance animation is complete, you can tap the animal to trigger its sound effect, tap the capital letter to hear it pronounced by Captain Wallace, tap the lowercase letter to hear it pronounced by a similarly chipper kid, or tap the animal's name to hear Captain Wallace say it aloud. Frustratingly, to me and the kids alike, you can't tap on any of those things—or tap buttons to navigate to other letters or back to the main menu—until the animal's entrance animation completes.
ABC Expedition's other flaws are minimal: the app shows buttons to go forward and backward to the next letters, even on A and Z, where half of those buttons have no effect. And my kids, who are accustomed to kid-friendly e-books, kept trying to swipe to turn pages, instead of tapping those buttons. Regardless, the drawings are adorable and the speech is clear. While ABC Expedition's gameplay is repetitive, my kids enjoyed it, and it's cute enough to avoid driving their parents crazy.
[ Lex Friedman is a frequent contributor to Macworld.]