This week's roundup of protection for the iPad and iPad 2 features a number of luxurious and elegant accessories—the kind that you'd find in the designer bag of a high-powered executive or discretely tucked away in the briefcase of an international man of action. And why not? After all, Apple's tablet is as close to the perfect marriage between form and function as the industry has yet achieved. If James Bond were in the market for an iPad to use in his new Aston Martin, he'd be looking for a case here, too.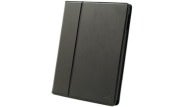 Bella: The Smart Libretto (iPad 2; $100) is a folio-style case made of genuine leather that can double as a typing or viewing stand. It is available in black, red, tan, or brown.
For a more discreet kind of protection, the Verde Cover ($80) is a leather sleeve that fits the iPad 2 with or without a Smart Cover. It features a soft, protective interior and looks like just like an envelope; it's also available in black, red, tan, or brown. Finally, the Veneta Slimmer ($70; iPad 2) is a leather sleeve that includes a series of built-in magnet that put your iPad to sleep as soon as you slip it into the sleeve. The Veneta Slimmer comes in red and is designed to minimize bulk to fit comfortably in your bag.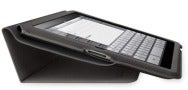 Belkin: The Access Folio Stand (price unavailable; iPad 2) is a padded folio case that can double as a stand and typing platform. Notable among folios, the Access is made of a padded fabric and sports a handy pocket for carrying an extra cable or two. It comes in black or a black-and-grey woven combination.
Speaking of folios, Belkin has also announced the Slim Folio Stand (price unavailable; iPad 2), which looks like a sleeker, thinner cousin to the Access Folio. The Slim Folio Stand comes in midnight black and sports the capability to act as a stand in multiple orientations. Alas, there's no cool pocket on this one.
Gräf & Lantz: This company's iPad Sleeves are built entirely of German felt and designed to snuggly fit your iPad or iPad 2. They come in twelve different colors, each available for $38.
Just in case felt is not your material of choice, Gräf & Lantz also offers sleeves of the same design but built entirely of vegetable-tanned leather (the felt is still there, though, to protect your iPad from the inside of the sleeve). These also come in twelve different colors but cost $65 each.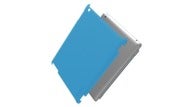 Incipio: The appropriately named Smart Feather is an ultralight polycarbonate shell custom-molded to fit the contours of the iPad 2's back, providing perfect protection without getting in the way of Apple's Smart Cover. Pricing and colours have not yet been announced, but the company expects to start shipping the Smart Feather in May.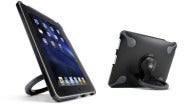 NewerTech: The NuGuard GripStand is a snap-on hardshell case that features a cool removable, pop-out stand. The stand can be rotated 360 degrees to position the iPad at virtually any angle. The $30 case comes in black or white.
An optional elevated base is available separately for $20, or in a bundle with the GripStand for $40.
RadTech: The RadSleevz ($25; iPad & iPad 2) are a family of form-fitting sleeves built out of Optex fabric, a RadTech-exclusive material that cleans your tablet's screen every time you insert it into the sleeve (and can be used as a cleaning cloth for your Mac or MacBook's screen, as well). Each sleeve weighs in at just 24 grams and is available in grey, red, blue, green, brown, or black.
The Aero ($16 for iPad; $30 for iPad 2) is a form-fitting, snap-on case made of polyurethane. It covers the back of your tablet and adds just under 4 ounces of weight. It's available in five different colors (six for the original iPad).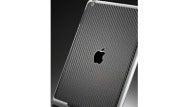 SGP: The Carbon is a cool, protective film that adheres to the back of your iPad 2 to provide protection without adding bulk or interfering with the operation of a Smart Cover. As its name implies, the Carbon is made of carbon fiber. It sports cutouts for your iPad's back camera and to keep visible the Apple logo on the iPad's backside. The $20 Carbon is available in black.
iPad (1st generation) Family