At a Glance
Expert's Rating
Pros
Elegant interface
Intelligent functionality
Can handle a breadth of projects
Excellent user guide
Reasonable price
Cons
Some templates look outdated
Our Verdict
Every once in a while, I come across an application that does so much, and so well, that I can't understand how it can have such a low price. At $40, SOHO Labels 5.0.3 is an unbelievable bargain.
Hundreds of features
Apple's Address Book does a good job of printing labels and envelopes, but if your labeling needs extend beyond occasional use, a dedicated label application will pay for itself very quickly. SOHO Labels goes far beyond mere label printing, into the realm of scrapbook pages, name badges, disc labels, and more.
The feature list is astounding: it integrates with Apple's Address Book for mail merge functions (including Groups), and if your list is in a different program such as FileMaker or Excel, you can export your data as a text file and SOHO Labels will automatically identify fields such as name, address, and company. Once the program chooses your data, it can automatically fit that information to your labels, regardless of length.
It can help you create many other kinds of projects, including greeting cards and invitations, file folder labels, name badges, and individually numbered raffle and admission tickets. You can design and print CD or DVD labels and inserts, business cards, and scrapbook pages.
To assist with some of the more difficult technical challenges in printing labels, a printing grid helps you calibrate your printer for perfect paper alignment, an Envelope Wizard helps you orient your envelope properly in your printer, and it lets you begin printing at any label position on a sheet.
SOHO Labels offers direct support for more than 1,500 stock labels from companies including Avery, DYMO, NEATO, HP, Imation, TDK, and more, and for label printers such as the DYMO LabelWriter, Seiko Smart Label Printer, and the Brother Label Printer.
To ensure your design meets the requirements of the United States Postal Service, the program can automatically generate POSTNET and many other kinds of barcodes, and a U.S. Postal Guidelines feature helps you make sure your addresses don't impinge onto areas reserved for the USPS.
If your designs will be printed elsewhere, you can export them in TIFF, JPEG, PNG, and PDF formats, or send them directly from within the program to a commercial printer for professional printing, with press-ready crop and registration marks.
Template or create from scratch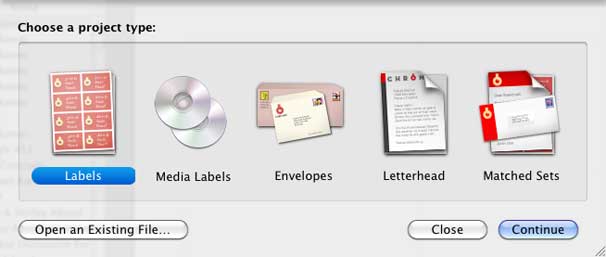 To get you started, the program includes hundreds of professional Smart Templates and Ready-made designs, with smart fields that automatically place data into the optimal position on your labels, and graphics placeholders that size your imported graphics for you.
To help you find designs and graphics, each has keywords and categories assigned to it. The average home user will likely find the quality of the included designs acceptable, but creative professionals will probably want to create their own. If you're creating business cards or scrapbook pages, you can also purchase additional iScrapKits from Chronos' online store.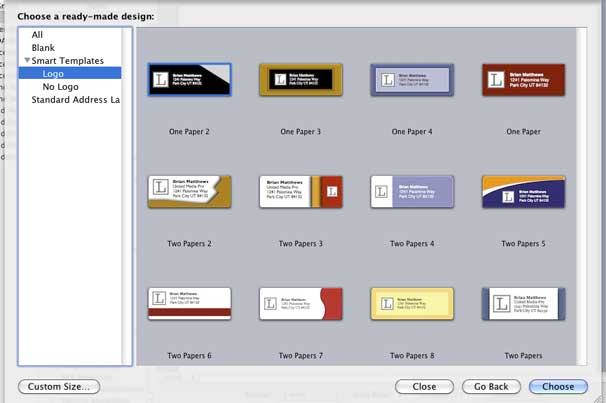 SOHO Labels' text handling features are quite advanced. You can define unique Dependency Fields so that if your label has data in a particular field, another field will appear or not. It can even automatically apply upper or lower case to the text and uniformly format phone numbers for you. I cannot overstate the value of the built-in data intelligence of SOHO Labels. It takes almost all the tedious work out of setting up your data.
The application has a full-blown (yet simple) drawing environment that lets you draw shapes, place text on a curve, or fill text or shapes with an image. Grids, guides, and rulers make it easy it align items—it even has alignment guides that let you know when an object you're dragging is aligned with other objects. You can rotate any object, and the program can automatically make selected objects the same width or height. Optionally, a context-sensitive Smart Inspector window pops up near your selected object. If you know the dimensions you want for an object, you can type them into the inspector.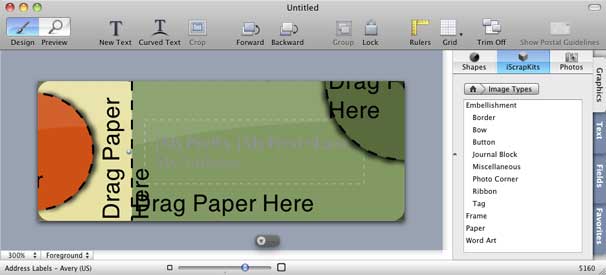 A perspective tool helps you simulate depth of an object, and you can lock objects or move them to separate layers. In addition, the program not only lets you browse and use images from iPhoto, you can crop them and apply dozens of impressive special effects. And of course, you can import logos, clip art, and photos in popular formats. A Favorites Bin lets you store often-used graphics, shapes, and text for quick reuse.
Advanced typography features let you adjust the spacing between letters (tracking), line spacing (leading), paragraph spacing, indents, text case, and more.
Unique Mac OS X features
Besides these features, SOHO Labels takes unique advantage of the advanced capabilities of Mac OS X. (It requires Mac OS X 10.5.8 or later.) For example, it offers a Cover Flow feature that lets you browse through the included designs, and an animated font preview that shows your text in any available font—either in a list or as a moving slideshow. You can add special effects from Mac OS X to your designs, such as Sepia, Motion Blur, Sparkle, Linear and Circular Gradients, Drop Shadows, Transparency, and more.
Performance
Any program that uses as many advanced features as this one could perform slowly, but on my 2.66GHz Intel Core i7 MacBook Pro with 8GB of RAM, I found its speed to be acceptable. SOHO Labels is a 64-bit application, which means it can be a little faster on the latest Macs. (If necessary, you can revert to 32-bit by ticking a checkbox in the program's Get Info dialog.)
The included user manual is clear and complete, with many extra tips about getting successful output.
Macworld's buying advice
If you're looking for an application that goes far beyond Address Book's limited ability to print labels and addresses, or if you want to create raffle tickets, name badges, file folder labels, raffle tickets or admission tickets, SOHO Labels is a clear winner. It's integration with Mac OS X, advanced automation features, and beautiful built-in art at a reasonable price make it a compelling choice.
[Jay J. Nelson is the editor and publisher of Design Tools Monthly, an executive summary of graphic design news.]