T-Mobile's latest entry in its G-series of Android phones and tablets, the G2X ($200 with a two-year contract from T-Mobile; price as of April 15), is a multimedia beast with an NVIDIA Tegra 2 dual-core processor, HDMI-out and 4G speeds. It sounds good on paper, but how does it compare to the other dual-core, 4G phones out there?
Thin, minimalist design
You might remember the LG Optimus 2X from CES 2011—LG's first foray into the land of dual-core Android smartphones. The Optimus 2X is currently available overseas: NVIDIA used the LG Optimus 2X to demo its Tegra 2 chip at its CES press conference, showing off HD video and an Angry Birds demo. NVIDIA also dubbed it a "super phone" for its strong multitasking capabilities and processing speed.
The G2X has essentially the same design, but comes with HSPA+ power and does not have LG's proprietary interface running atop Android. Besides those differences, and of course some branding from T-Mobile, the G2X is virtually identical to its international sibling.
The G2X is pretty basic looking with its black, dark gray and silver color scheme. But don't let its generic appearance fool you: This phone has an incredibly high-quality feel. The face of the phone is comprised almost entirely of the display with a thin piano-black bezel running around it. Four touch-sensitive buttons lie below the 4-inch display: Menu, Home, Back, and Search. The back of the phone is a matte dark gray soft-to-the-touch rubber with a silver stripe bearing the Google logo running down the middle. The battery cover is very easy to remove, but doesn't feel flimsy by any means. A metal frame between the face and the back cover around the phone gives it a sturdy, solid feel. The face of the phone is subtly curved, too, which feels comfortable when you're holding it up to your ear.
At the top of the phone, you'll find the power/lock key, HDMI port, and a 3.5-mm headphone jack. On the right spine you'll find the volume rocker, while the left spine is bare. The bottom houses speakers as well as the microSD port.
The 4-inch WVGA 800-by-480-pixel LCD display showcases videos, games, and the user interface quite nicely. Colors are bright and vivid, details look sharp, and movement and animations look smooth. It was a rare sunny day in San Francisco so I took the G2X outside to see how it fared in bright light. Unfortunately, the on-screen image completely vanishes once you step outside. I had a hard time even trying to dial a number. And to make matters worse, the screen is a fingerprint magnet, so it is extra hard to see with all those smudges.
Android 2.2: No frills
As I mentioned earlier, like the other G-series phones, the G1 and G2, the G2X has no overlay running over Android. For Android purists like myself, this is good news. I actually do like certain aspects of the manufacturer overlays, like HTC Sense's Weather widget or Samsung TouchWiz's media player. In other areas, however, I feel like overlays can take away from the functionality of Android-whether by slowing it down or replacing some native apps. For example, Motorola's Motoblur software replaces the multi-featured camera app found in stock Android with its own, lesser app.
The bad news is that the G2x ships with the 2.2 (Froyo) version of the Android operating system, but T-Mobile confirmed with us last month at CTIA that it will get an update this summer.
We've covered Android 2.2 pretty extensively in the past. For a hands-on look of the hottest features in this update, go here. Despite being overlay-free, the G2X comes with quite a bit of T-Mobile pre-installed apps. You get T-Mobile's AppPack, which are bundles of apps picked out by T-Mobile, T-Mobile TV and T-Mobile Highlight for even more video content. It also comes with Tegra Zone, NVIDIA's gaming store, the Zinio e-reader, EA games and a few other random apps. Unsurprisingly, Need For Speed Shift is also tucked in there (is it just me or does every phone come loaded with NFS?).
Camera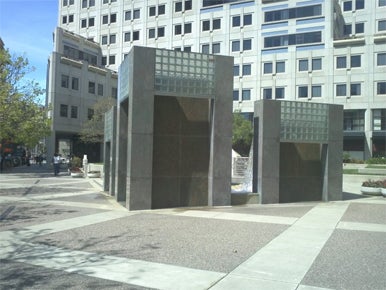 The 8-megapixel camera sensor is impressive, especially when using it outdoors. Details are incredibly sharp and colors look bright, yet natural. Indoors looked good too though they had a bit of a dark cast to them. Unfortunately, the flash is so strong that it blows out details and washes out color. It probably should only be used in very dark environments
One thing I did not like was the lack of a physical camera shutter button. I firmly believe that physical shutter buttons make a world of difference for taking non-shaky cell phone pictures. And the G2X is so thin that I had a hard time getting a good hold on it while hitting the on-screen shutter button. I also did not like the "New" button you have to hit on the interface to start taking another picture. It is a bit small and is sometimes unresponsive.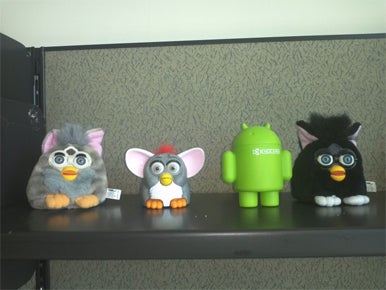 The camcorder can also capture HD video in resolutions up to 1080p. My test video looked pretty good. There is no stuttering or artifacting, and I was quite pleased with how well it handled motion. There is also front-facing video camera, strictly for video chatting. I had no issues connecting with a T-Mobile Sidekick 4G using the Qik video chat app loaded on both devices. Video quality wasn't perfect, but it was OK for short conversations.
Performance
As I've already mentioned, the G2X is powered by NVIDIA's Tegra 2 system-on-chip, which is also found in the Motorola Atrix 4G. Yes, it is dual-core, but what exactly does this mean? The Tegra 2 has two 1GHz Cortex-A9 CPU cores and eight GeForce GPU cores. It also has native HDMI and dual-display support, so you can watch HD videos from your phone onto your TV.
When NVIDIA showed off the Optimus 2X/G2X back in January, they also touted its multitasking capabilities. I downloaded a few apps from the Market, streamed some music from Pandora, and ran a few games at once. I opened up Angry Birds and the app just ran smoothly. It takes a lot to choke a phone with a 1GHz processor, so I doubt that many consumers really need this extra multitasking power. But it is nice knowing it is there.
The Tegra 2's impressive performance is apparent in other areas of the phone. Scrolling through menus was smooth and apps launched quickly. I was impressed with how smoothly the phone handled video and 3D games. The browser was also quite snappy, loading pages in seconds-and even faster when I got a strong 4G signal.
The game Need For Speed Shift ran fluidly and the graphics looked sharp. We'll be testing more games on the G2X, so check PCWorld.com for a full report on which games ran the best, how games look on an HDTV, and what we thought of the NVIDIA TegraZone game store.
T-Mobile's new HSPA 21 network technology means that the handset is capable of reaching the 21 mbps of (theoretical) throughput speed that the T-Mobile network is built to deliver. This does not mean that the G2X can actually hit 21-mbps download speeds, but rather that it contains a radio and chipset capable of faster speeds than earlier T-Mobile 4G phones achieved.
We tested T-Mobile's 4G network using the Samsung Galaxy S 4G in a few cities, including San Francisco, and were pleased with the solid 4G-like speeds. The Galaxy S 4G averaged 3.38 megabits per second for downloads and 1.13 mbps for uploads. It couldn't hold a candle to the blazing speeds we saw on Verizon's LTE network (18.30 mbps and 7.39 mbps), but it did outperform both AT&T's HSPA+ network and Sprint's WiMax network.
So I have to give T-Mobile the benefit of the doubt when I report the rather dismal speeds I achieved with the G2X. The South of Market neighborhood in San Francisco (where PCWorld is located) has never been a strong area for T-Mobile. I tested closer to downtown, the G2X did much better, achieving download speeds of 4.23 mbps for downloads and 1.12 mbps for uploads.
Call quality was a bit on the disappointing side. While my friends generally had good feedback about the quality of my voice, I felt like sound on the earpiece was a bit blown out. It sounded like my friends were talking way too close to the mouthpiece (they swore they weren't!). I also heard a very faint hiss on a few calls. Volume was ample enough, however.
We have not done formal battery tests on the G2X yet, but I was impressed with how it held up over a day of heavy usage.
Bottom line
The T-Mobile G2X has the chops to compete with other top-of-the-line phones, and until the HTC Sensation comes out, this is hands-down the best phone for T-Mobile. The Tegra 2 power is impressive and I appreciated the minimalist approach to both hardware and software. It is a no-frills phone that does just about everything well. My biggest complaint is that it is running now-outdated software, but that will hopefully be alleviated soon.
[Ginny Mies is an associate editor for PCWorld.]