Coming up with a clean, clever logo can be a challenge, especially if you have no experience as a corporate identity designer. Macware hopes to demystify this process with Logo Design Studio Pro 2.1 ( Mac App store link), a potentially capable but unfortunately flawed app that lets you quickly create logos for your home business, charity club, or sports team.
The app asks you to choose a template as a starting point, and includes hundreds of logo templates across nine broad categories, such as business and technology. They're a bit generic but generally likable, and to make the logo your own you need only replace the default text with organization's name.
Of course, a huge caveat of creating a logo with an app that relies heavily on templates is that your logo winds up looking very similar to another company's logo. Logo Design Studio Pro addresses this problem by including a full suite of vector tools—you can either customize the template you choose, or build your own logo from the ground up. The tools work similarly to those you'd find in other illustration apps; for example, with the pen tool you can draw a detailed object, edit its contours, and apply both lines and fills.
The app surprises here in a number of regards: first, line styles include text-on-path and gorgeous hand-painted strokes; second, you can apply a variety of raster effects to objects, such as blurs, color tweaks, and halftone patterns; and third, the app offers advanced operations like alignment and distribution, path combination, and object blends.
Another advanced feature is support for layers, allowing you to isolate and organize different elements of your logo. The layers panel is a little rough around the edges, however; layers are listed inversely (the bottom layer is listed at the top) and icons within the layer listing don't toggle as they do in other apps.
Logo Design Studio Pro's clip art library includes simple shapes—objects like fruit and leaves, and clean artwork representing people and animals. Artwork is offered in both vector (SVG) and raster (PNG), and you can easily add your own art to the library. Oddly, vector clipart objects aren't grouped when you add them to your document, making it very easy to pull apart the artwork as you attempt to reposition it.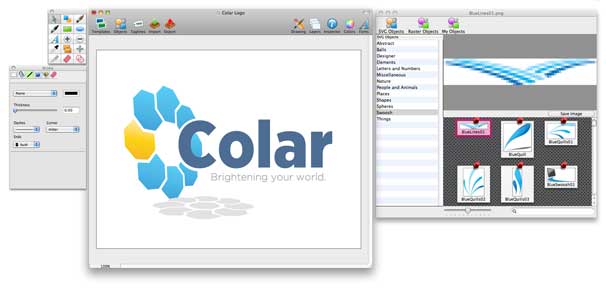 Unfortunately, there are two debilitating issues with the current version of Logo Design Studio Pro that make it impossible to recommend. The first is simply an issue of stability; sadly, the app crashes constantly. The second is a random but reoccurring redraw error with vector objects that often crops up when you undo an action. Let's say that you apply a simple transformation to an object (resize, reposition, or rotate) and then decide you don't like what you've done. A common solution would be do choose Edit -> Undo, but with Logo Design Studio Pro, the object might stay exactly as it is, or disappear entirely, or randomly enlarge. There's no rhyme or reason to it, and it makes using the app an exercise in frustration. Equally vexing are a number of menu items that just don't work—either they're permanently grayed out, or selecting them does nothing at all—design flaws the developer acknowledges.
If you manage to complete a logo, you'll find the app's export feature quick and easy. Artwork can be exported as vector (SVG, EPS, or PDF) or raster (PNG, JPG, or TIFF), though you may find the resulting raster logo rather low-resolution if you used the default document size of 800 by 600 pixels.
Macworld's buying advice
Logo Design Studio Pro 2.1 could be a very capable logo creation app: it has plenty of resources, a pleasing design and user interface, is easy to learn and use, and is generally speedy. Unfortunately, the app is completely overwhelmed by a number of catastrophic bugs that cause it to crash often and misbehave in frustrating ways. The vendor is aware of these issues and promises an update in the near future. Until these problems are resolved, however, your best bet is to avoid this app.
[Chris McVeigh is an author, illustrator, and toy photographer based in Halifax, Nova Scotia.]