Late last year we bought a new car. And in doing so, I realized that the auto industry is undoubtedly one of the industries that has been severely disrupted by Apple in the past decade.
Yes, every new car in existence seems to offer a USB port with iPod connectivity, and my family's new minivan is no exception. I plugged in my old hard-drive-based iPod and all of a sudden, our car has my entire music collection on tap. It's got Bluetooth, too, so I can answer my iPhone from the dashboard and talk over built-in speakers and microphones, and even listen to music streamed wirelessly from the iPhone in my pocket.
(This car is basically the shuttlecraft from the USS Enterprise. Especially when compared to our other car, a 1994 Honda Civic.)
But the changes Apple has wrought had their biggest impact when it came time to decide if we wanted to pony up for the add-on navigation and in-car entertainment systems. As you might expect, automakers charge huge amounts of money for items such as these. As I recall, the entertainment option cost $1500. For a single fold-down video screen and a DVD player!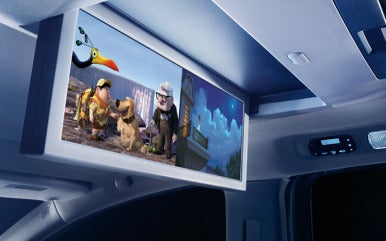 For a few years, I dreamed of buying a car with a snazzy nav and movie-playing system. But when it came time for us to buy, we didn't get either the navigation system or the entertainment system. And Apple was the reason.
My wife and I both have iPhone 4's, and we own a copy of Navigon's MobileNavigator GPS app. Rather than spend hundreds of dollars for in-car navigation, we bought Kensington's $30 Windshield/Vent Car Mount for Smartphones and stuck it on the center passenger-side air vent. When we go on a trip that requires navigation, we plug in an iPhone and let it talk to us. Problem solved.
When it came to entertainment, we also opted out. Yes, we want our kids to be entertained on long trips. But there are already two iPads in our family, and during those trips we adults are happy to cede them to the small people who ride in the rear of the compartment. Each of our children can choose what they want to watch, view it on a bright 10-inch screen that's right in front of them (rather than mounted on the ceiling), and listen to it on a set of headphones so as not to disturb anyone else in the car. They can also opt to get a bit more interactive and play games or even use educational apps. (During Spring Break, I was amazed to look back while riding through the California desert and discover my kids were busy playing Math Bingo.)
There's another benefit, too. One of our neighbors has a minivan with an in-car DVD player. Their kids demand videos whenever they're in the car, even for a short ride. It's maddening. We only stock those iPads when we're going to be trapped in the car for five-plus hours. Our kids never beg for a TV show on a short drive because it's simply not an option.
I'm not going to argue the merits of kids using iPads on long car trips—I'm in favor of it, obviously, but I understand if you're opposed. But if you're going to choose between a couple of iPads and a factory-installed in-car entertainment system, I'm not sure why any tech-savvy person would choose the latter. (I admit lots of people have DVD collections and don't know how to use HandBrake… though they should.) The iPads offer more control, more variety, and are cheaper. And thus, my local car dealership missed out on a couple thousand bucks in extras, because Apple's technology simply does more, is cheaper, and our family's already got it.