The iPhone 4 first dropped into customers' hands on June 24, 2010, more than ten months ago. But something was missing: When Apple CEO Steve Jobs announced the latest revision of Apple's smartphone earlier that month, he said that it would be available in black or white. The white version never materialized, though—until now. On Wednesday, Apple announced that the white iPhone 4 will finally be launching on April 28, at Apple Stores, AT&T and Verizon Wireless stores, and certain Apple Authorized Resellers.
"The white iPhone 4 has finally arrived and it's beautiful," said Philip Schiller, Apple's senior vice president of Worldwide Product Marketing, in a statement on Apple's Website. "We appreciate everyone who has waited patiently while we've worked to get every detail right."
And not only will the U.S. get the long-awaited phone on Thursday, but it will also wing its way—in both 16GB and 32GB capacities—to Austria, Australia, Belgium, Canada, China, Czech Republic, Denmark, Finland, France, Germany, Hong Kong, Ireland, Italy, Japan, Luxembourg, Macau, Netherlands, New Zealand, Norway, Singapore, South Korea, Spain, Switzerland, Sweden, Taiwan, Thailand, and the UK on the same day.
It's been a long and arduous journey to get to this point, one that would frankly make even Odysseus pale. When the iPhone 4 first went up for pre-order, Apple's online store wouldn't allow customers to pre-order the white version, saying only that it was "currently unavailable." Just before launch, Apple announced that white iPhone 4 wouldn't ship until late July, citing manufacturing problems. That led to a slew of theories—everything from suggestions that white phones were cracking more easily than their black counterparts, or that light was leaking through the plastic and affecting the camera, or even that the white iPhone 4 had been faked all along. (Well, maybe not that one.)
When July rolled around, Apple CEO Steve Jobs reiterated—during Apple's press conference about the iPhone 4's antenna issues—that the white iPhone 4 would be available later that month, but all that surfaced was another delay, pegging the phone's availability as "later" in 2010. In October, the company said the white iPhone wouldn't appear until Spring 2011—subsequently, all trace of it vanished from Apple's online store.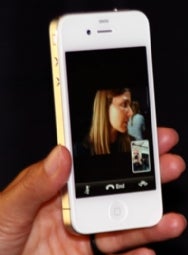 As the weeks went on and the white iPhone continued to remain unseen, it attained almost mythic status. There were those who wondered if it would ever really appear, whether Apple might have quietly scrapped all intentions to bring it to market. Although I could personally confirm the device's existence with my own eyes and hands— I used one at WWDC 2010 in the press area—there was a time when I began to question my own sanity: Had I really seen it? Had it been just a trick of the light? Breathless spottings were reported in the wild, along with repeated rumors that it had shown up in retail stores' inventory systems only to disappear again. Like the Flying Dutchman, the white iPhone 4 seemed doomed never to make port and to bring only doom to those who saw it.
But the portents surged this past week when a white iPhone 4 was reportedly acquired by a Vodafone UK customer, followed by spy shots of retail boxes that seemed to suggest such a release was imminent. And then, finally, Wednesday's word from on high that the white iPhone will finally descend to earth on April 28—which, I may note, is un coincidentally my birthday. Thanks, Apple, but you really shouldn't have. No, seriously—I bought a black iPhone 4 months ago.
Updated at 7:12 a.m. PT with international availability.
iPhone 4 32GB Black (CDMA, Verizon)
Price When Reviewed:
$549
iPhone 4 16GB Black (CDMA, Verizon)
Price When Reviewed:
$499
32GB iPhone 4 (GSM, AT&T)
Price When Reviewed:
$599
16GB iPhone 4 (GSM, AT&T)
Price When Reviewed:
$485