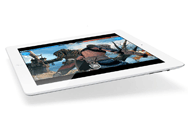 The arrival of the almost mythical white iPhone 4 isn't Apple's only product news on Wednesday. The company has also announced that it is bringing the iPad 2 to Japan, Hong Kong, Korea, and ten other countries within the next week and a half.
Japan is first on the list of new countries to get the iPad 2, as both the Wi-Fi and Wi-Fi + 3G versions of the tablet arrive there on April 28. Come April 29, both editions of the iPad 2 will come to Hong Kong, India, Israel, Korea, Macau, Malaysia, Philippines, Singapore, South Africa, Turkey and the United Arab Emirates. Apple will also make the iPad 2 with Wi-Fi available in China on May 6.
This announcement makes good on claims from Apple COO Tim Cook, who during last week's second-quarter earnings call stated that the iPad 2 would arrive in 13 more countries. The company's announcement also says that further international availability will be detailed at a later date.