The popularity of Angry Birds continues to soar as the game has now reached 140 million downloads worldwide, according to an executive with its publisher Rovio Mobile.
The download numbers represent a major surge from the 100 million downloads reported by Rovio in March, and puts Angry Birds further into the ranks of the top selling games of all time.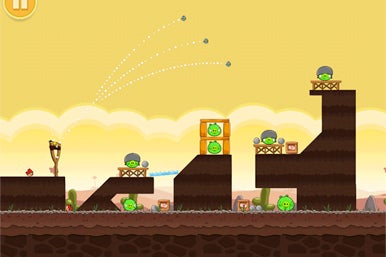 The game has been a large success after it was first launched as an Apple iPhone app in December 2009, said Rovio's Peter Vesterbacka, who goes by the title "Mighty Eagle," at the Global Mobile Internet Conference in Beijing on Wednesday.
Angry Birds is now available on a wide range of platforms including Android, Windows, and video game systems like the Playstation 3. The game sells for 99 cents in Apple's App Store, but also comes in a free version.
The success of the game, however, didn't come easy, and Rovio built 51 other games over a seven-year period before Angry Birds really started taking off, Vesterbacka said. Marketing has played a big role in the game's popularity, he added. Rovio has invested in producing Angry Birds merchandise to promote the game and created an ad that ran during the Super Bowl.
Rovio has big ambitions for China. The company aims to reach 100 million downloads of Angry Birds this year, Vesterbacka said. He did not disclose the number of downloads of the game in the country so far.
The company also believes it can make Angry Birds one of the most recognized brands in China. "We are now in the top three for the most copied brand in China," he said. "We are up there with Disney and Hello Kitty."
China is potentially a large market for Rovio. The country has 889 million mobile phone users, according to the country's Ministry of Industry and Information Technology.