An official Office suite for iOS might still be nothing more than a dream for now. But Microsoft has teased our imaginations once again with an update to OneNote Mobile.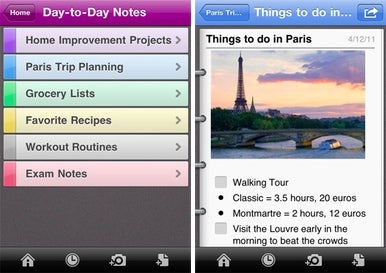 First released in January, OneNote Mobile is an iOS client for Microsoft's Evernote-like but Office-rooted apps and services by the same name. You can create notes that contain text, pictures, lists, and to-do lists, then sync it all with the OneNote Web App at office.live.com and OneNote 2010 for Windows. So far, Microsoft does not make a OneNote client for the Mac.
OneNote Mobile 1.1 brings a handful of key improvements, including a streamlined signup process for new users, the ability to e-mail notes, and a redesigned interface to make it easier to switch between notebooks. Sync operations and overall app performance should also be a bit snappier.
It's worth noting that, while OneNote seems like a good first step for Microsoft Office efforts on iOS, it seems to be limited in a number of key, if not strangely arbitrary, ways. For one, you'll need to sign into the OneNote Web App to actually create new notebooks, but if you want to customize section colors for your notes, you'll need to fire up OneNote 2010 on Windows.
Still, OneNote Mobile seems to be a decent 1.x client for now, especially since Microsoft continues to offer a price of "free for a limited time." In time, it would be great to see OneNote become the mature iOS client that Microsoft is more than capable of building. An iOS debut of OneNote's more popular and widely used siblings like Word, Excel, and PowerPoint wouldn't hurt either.