At a Glance
Expert's Rating
Pros
Excellent audio quality for a one-piece system
AirPlay, dock-connector, USB, optical-digital, and analog audio connections
Impressive components and solid construction
Beautiful design and thoughtful features
Cons
Single status light with many possible colors and flashing patterns
Composite video output provides poorer quality than other types of video
Our Verdict
Back in 2008, Bowers & Wilkins (B&W) entered the iPod-speaker market with a bang with the $600 Zeppelin ( ), a high-end speaker dock that combined excellent sound quality, some unique technical features, and B&W style. It was a bold product statement, and it served the company well—the Zeppelin has been a flagship product on Apple Store shelves, has earned widespread praise, and opened the doors for other Apple-focused products, such as the P5 Mobile Hi-Fi Headphones ( ) and MM-1 computer speakers ( ). The company even offers a compact version of the Zeppelin, the Zeppelin Mini.
B&W has since added to its Apple-focused portfolio—and achieved another milestone—by being the first company to ship an AirPlay-enabled audio system, the Zeppelin Air. The most obvious improvement the Zeppelin Air offers over the original is the capability to play audio streamed wirelessly from your computer or iOS device via Apple's AirPlay technology, but B&W has also upgraded the Zeppelin in a number of other significant ways.
Similar on the outside
At first glance, the Zeppelin Air looks almost identical to the original Zeppelin. You get the same pill- (or, if you will, dirigible-) shaped enclosure—approximately 25 inches wide, 7.5 inches high, and 8 inches deep—with the entire front covered in black mesh. However, whereas the back of the original Zeppelin was metal with a chrome finish, the back of the Zeppelin Air is made of glossy-black, glass-fiber-filled ABS plastic that the company says is considerably more rigid for better audio performance. (I'm guessing the plastic also offers better wireless performance.) At the top of the unit, dead-center, are volume buttons and a standby/input-select button.
The front of the Air sports the Zeppelin line's unique, curved dock-connector cradle—still my favorite of all the docking speakers I've tested because of the way it lets you wrap your entire hand around the cradle while accessing your player's controls. This, too, has been improved slightly, using what appears to be a sturdier spring-loaded mechanism for accommodating thinner and thicker devices. While the cradle doesn't support an iPad, it works with all iPhone, iPod touch, and iPod classic models, along with 2nd-generation-and-later iPod nano models. The cradle charges your iPhone or iPod and, if you connect the Zeppelin to your computer using the Zeppelin's USB port, you can sync your iPhone or iPod with iTunes.
On the front of the cradle is a single status light that indicates both power/standby status and the current state of the Zeppelin Air. While this single-light design is elegant, few people will ever remember what each of its nearly 20 different colors and states means. (And that's not counting the seven diagnostic modes possible only if you put the Zeppelin Air in a special troubleshooting mode.)
On the back of the Zeppelin are connections for the power cable, ethernet (for initial setup and, as an alternative to Wi-Fi, ongoing network connectivity), USB (specifically, USB-B—the "fat" version), and video output (for watching i-device-hosted video on a TV). Alas, the video output is composite, the lowest quality, rather than component or even S-video. There's also a 1/8-inch (3.5mm) auxiliary-input jack for connecting an additional digital- (mini-TosLink) or analog-audio source. In addition to letting you sync your iPhone or iPod with iTunes, the Zeppelin Air's USB port can grab USB audio from your computer and lets you install firmware updates. (I installed one such update during my testing; the procedure was easy to perform.)
As with the original Zeppelin, the Air is meant to sit in one place. It's not difficult to move—it uses an internal power supply, so the only cable is a simple power cable—but it's heavy enough and bulky enough that you won't be carrying it from place to place regularly. For those times you do need to move the system, a welcome change is that the original Zeppelin's clumsy stand design—two different rubber bases that allowed for different angles but that fell off if you picked up the system—has been upgraded to a single, stiffer-rubber base that's attached with screws.
The Zeppelin Air includes the same beautiful, pebble-shaped remote control as the Zeppelin, sporting the same glossy-black front, chrome back, and rubber "foot." The remote provides basic controls—standby (power), previous, play/pause, next, volume up, and volume down—along with a button to switch between the Air's four possible inputs: AirPlay, dock, USB, or aux-in. The buttons are laid out in an intuitive pattern, making the remote easy to use by feel, and B&W has fixed my biggest complaint with the original version: While it still uses a symmetrical shape with a symmetrical button layout, the remote has gained a subtle indentation on the bottom that falls perfectly under your index finger when you hold the remote in the proper orientation. Kudos.
Different on the inside
Like the original Zeppelin, the Air includes a built-in digital-to-analog converter (DAC). However, the Air's DAC has been upgraded to 24bit-96KHz capability, and all inputs are fed into this DAC—even the analog input—where they're upsampled and processed. The company says this significantly improves audio performance.
There are other big changes inside, as well. While the Zeppelin Air uses the same five-inch woofer as before, the Zeppelin's left and right drivers—a 3-inch midrange driver and a 1-inch tweeter on each side—have been upgraded, and each of the five drivers now gets its own Class-D amplifier. These five amplifiers provide a total of 150 Watts of power—50 Watts for the woofer and 25 Watts for each of the other four drivers. And to improve bass response and overall audio performance, B&W has improved the bass-port design and implemented the company's Dynamic EQ technology (which also protects the amplifiers from overloading at high volumes).
The Zeppelin Air is also officially Made-for-iPhone certified.
Music in the air
The Zeppelin Air still works great as an iPod dock, and it sports similar iPod/iPhone-playback features as its predecessor. For example, a docked iPhone or iPod touch gains a new Speakers screen in the Settings app (traditional iPods gain a Speakers menu) for adjusting the Zeppelin Air's bass level—a welcome option, as the Zeppelin Air's increased bass output can be a bit overwhelming if the system is positioned close to a rear wall. On non-touch iPods, a new Backlight setting lets you choose whether the iPod's screen is always lit, lit only when playing, lit only when the controls are accessed, or never lit.
But, of course, the big addition here is AirPlay support. Once the Zeppelin Air is connected to your AirPort Wi-Fi network—it must be a Wi-Fi network provided by an Apple AirPort Extreme or Express Base Station—the unit appears as an AirPlay destination in iTunes on your Mac and in any AirPlay-compatible app on iOS devices, letting you stream audio wirelessly.
The initial setup procedure wasn't as simple as I expected, but it wasn't too painful—and you have to perform it only once. The included setup guide walks you through the process, which involves connecting the Zeppelin Air, via ethernet, to your computer; pointing your computer's Web browser to the Zeppelin Air's built-in Web server; using the Web interface to connect to your Wi-Fi network; and then waiting for the Zeppelin Air to reboot and connect to the network. My first configuration attempt didn't work, but after resetting the Zeppelin and trying again, it worked perfectly, and I never had to reconfigure or reconnect after that. (You can also use the Zeppelin's Web interface to change its name—how it appears in iTunes and to your iOS devices. After the initial setup procedure, you can access the Web interface over your wireless network.)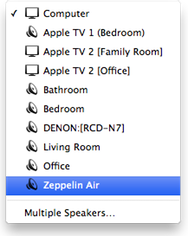 Once configured, you can stream music from iTunes on your computer to the Zeppelin Air just as you would to an AirPort Express or Apple TV: You click the AirPlay button (formerly the Speakers pop-up menu) in the lower-right corner of the iTunes window, and then choose the Zeppelin Air. You can stream to multiple AirPlay devices by instead choosing Multiple Speakers and then checking the boxes next to desired the AirPlay devices. (If you'd like to stream audio from a program other than iTunes, you can use Rogue Amoeba's Airfoil, which lets you stream non-iTunes audio to any AirTunes/AirPlay-compatible device.)
Similarly, to stream audio from an iPad, iPhone, or iPod touch, you just click the AirPlay button from within any AirPlay-compatible app and choose the Zeppelin Air as the destination.
Whether streaming from iTunes or an iOS device, there's a slight delay when you first switch to an AirPlay destination, but after that, playback is smooth—in using the Zeppelin Air for several weeks, there was only one time I experienced dropouts or stuttering, and other devices on my wireless network were also having problems that day. (Of course, if your Wi-Fi network isn't solid, your experience may not be as good as mine—AirPlay is only as good as your wireless network.) I even watched an entire episode of The Wire on my iPad, with the audio streamed to the Zeppelin Air, without the audio and video getting out of sync. AirPlay streams audio in Apple Lossless format, so you don't lose fidelity by listening wirelessly—music sounds as good as the original files, be they low bit-rate MP3s and AACs or uncompressed AIFF files.
B&W got the little details right here, as well. Rather than a traditional "off" mode, the Zeppelin Air has sleep and standby modes. Sleep mode (activated by pressing the standby button on the remote or by holding down the standby/input button on the main unit for two seconds), powers down most of the Zeppelin's electronics but keeps its wireless connection alive so the Air remains available as an AirPlay destination. If you send audio to the Zeppelin Air, it immediately wakes up—a great feature that makes AirPlay far more convenient than if you had to remember to turn on the Zeppelin first.
Standby mode (activated by holding down the main standby/input button for four seconds), on the other hand, shuts down all of the system's electronics except the remote sensor, using less power but requiring you to manually wake up the Zeppelin Air when you want to use it. How much energy do you save? In my testing, The Zeppelin Air drew approximately 6 Watts of power in sleep mode, but less than 1 Watt in standby mode.
Another nice feature is that when streaming from iTunes, you can use the Zeppelin's remote to control iTunes playback: play, pause, previous, or next track. (This feature requires that iTunes' Allow iTunes Control From Remote Speakers option, in iTunes' preferences, be enabled.) Similarly, when streaming audio from an iOS device, the Zeppelin Air's remote can control iOS playback.
The Zeppelin Air is also smart enough to not let you switch input sources if only one source is available. For example, if there's no iPhone or iPod in the dock cradle, and no audio source connected to the auxiliary-input jack or USB port, you can't accidentally switch the source away from AirPlay.
Finally, as mentioned above, the Zeppelin can also be used as a USB speaker system for your computer; when doing so, the Zeppelin's volume buttons control your computer's volume level. One potentially confusing thing here is that the Zeppelin doesn't identify itself to your computer as a USB-audio device until you switch the Zeppelin's input to USB, and when you switch away from USB, the Zeppelin disables the USB-audio connection altogether—which means the Zeppelin disappears as far as your computer is concerned. At least on a Mac, however, once you've initially connected the Zeppelin and selected it as your audio output, the Mac automatically switches to the Zeppelin whenever it's connected.
With all these ways other than a docked iPhone or iPod to get audio to the Zeppelin Air, you may be thinking it would be nice if B&W offered a cradle-less version. The company told Macworld that if the cradle and arm really bother you, you can actually remove the entire apparatus, although doing so will void your warranty.
Sound improvements
As with its predecessor, the Zeppelin Air sounds more like a small home stereo than a desktop iPod dock, offering outstanding audio quality that's rich and full. Thanks in part to the Zeppelin's wide profile, stereo separation remains better than with many one-piece systems, although it's still not as good as you'd get with a system with separate left and right speakers positioned farther apart.
But the Zeppelin Air offers minor but welcome improvements over the original thanks to its new components and tweaked design. The most obvious upgrades are in bass response and maximum output. The Zeppelin Air's low-frequency output is noticeably more powerful than that of the orignal Zeppelin, and it's as good as that of any desktop system we've tested. You won't get the lowest frequencies—the woofer is simply too small—but the Zeppelin offers relatively flat bass response down to around 75Hz or 80Hz, and decent performance as low as 60Hz to 65Hz. Bass is powerful without being boomy (unless, as with any system, you place the Zeppelin too close to a wall or corner), and low frequencies are clear and distinct.
Maximum volume is also significantly louder than with the original Zeppelin, no doubt due in part to the Air's additional amplification. The Zeppelin Air can also play louder without distorting—I was able to crank the system well beyond safe listening levels without it breaking a sweat.
Finally, one of my criticisms of the original Zeppelin was that while treble detail was good overall, the highest frequencies were a bit recessed compared to some of the other top-tier speaker docks I'd tested. B&W seems to have taken steps to address this in the Zeppelin Air. While some listeners will still wish for a brighter sound, I think most listeners—even the picky ones—will be more than happy with the improvements.
The overall result is audio quality that's noticeably better than the original and should please all but the most critical listener. Most impressively for a desktop system, the Zeppelin Air's audio is balanced, as no range of frequencies stand out. It's safe to say that if you want better audio, you'll need to go with a system with separate speakers—and even then, you'll need a good amount of power, not to mention speakers large enough to put out decent bass.
Macworld's buying advice
The original Zeppelin impressed us with great sound quality, impressive design, and unique technology, and the Zeppelin Air bests its predecessor on each of those metrics, offering noticeably better sound quality, some useful design tweaks, and a number of technological improvements—first among them support for AirPlay—at the same price. Granted, that price is $600, and, as I noted when I reviewed the original Zeppelin, some of that money surely goes towards the B&W name. But there's no question you're also paying for a high-quality product. You might be able to get better sound for $600 by putting together your own AirPlay audio system with separate left/right speakers (a topic we'll be covering soon), but if you're looking for a one-piece system that sounds and looks great, the Zeppelin doesn't have much competition—especially when you consider that it works with AirPlay, iPhones, iPods, your Mac, and any other stereo audio source, digital or analog. For many listeners, the Zeppelin is the first "speaker dock" that really can take the place of a home stereo system.
Updated 5/6/2011, 7:30pm: Removed the instructions for removing the Zeppelin's dock-cradle arm. B&W contacted Macworld to say that, contrary to what we were initially told, performing the procedure will indeed void your warranty.
[Dan Frakes is a senior editor at Macworld]