At a Glance
Expert's Rating
Pros
Beautiful and useful Vari Angle 3-inch LCD
Wireless flash transmitter for multiple flashes
Robust movie recording options including full HD
External mic jack
Clear, easy to use menu system and onscreen controls
Excellent image quality, even at ISO 1600
Versatile 18-135mm kit lens option provides all in one solution
Cons
Some physical controls (such as Display button) oddly placed
Lack of single button movie recording
Auto White Balance struggles in most indoor lighting conditions–a traditional Canon weakness
Our Verdict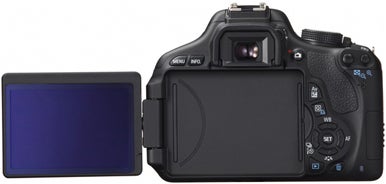 The Canon EOS Rebel T3i with 18-135mm f/3.5-5.6 IS optional kit lens is a complete picture taking machine. The latest Rebel features an LCD that swings out and can be positioned at a variety of angles, full HD video recording, wireless flash control, a respectable continuous shooting mode, and the same high resolution, 18 megapixel sensor as its predecessor, the EOS Rebel T2i.
You can build an entire system around the T3i by purchasing additional lenses, but we encountered no problems handling common shooting situations with the kit18-135mm zoom lens. For about $1,200, you can have a versatile camera/lens combination that would serve most hobbyists quite well. The 18-55mm is still available as the kit lens, bringing the price down to less than $900. So if you have a tighter budget, it's great to have that option.
Basic specifications
At the heart of the EOS T3i is an 18-megapixel APS-C sensor powered by a DIGIC 4 processor. It can record images up to 5,184 x 3,456 pixels. The optical viewfinder provides 95 percent view, and the Vari-Angle 3-inch LCD shows 100 percent view with 1,040,000 dots of resolution. Data is recorded to an SD card, and the camera is SDHC and SDXC compatible.
When you look through the optical viewfinder, you see 9 autofocus points. The center AF point is cross-type, and is the most sensitive of the group. So when you're letting the camera determine the focus for the shot, it has a wide area of coverage with 9 sensors detecting objects in the frame. The pop-up flash provides a wide enough coverage area to properly illuminate subjects with the kit lens attached, plus it serves as the wireless trigger for off-camera flash control with Canon Speedlites.
Maximum continuous shooting speed is 3.7 fps, which compares favorably with the competition. The camera is powered by a rechargeable Canon LP-E8 battery. Body weight is 18.2 oz without a lens attached. The T3i feels light, but sturdy in the hands and is well balanced with either the 18-55mm or the 18-135mm zoom. If you're on the go, this camera won't weigh you down.
Physically, the T3i isn't very different than its predecessor, the T2i, with the exception of the Vari-Angle LCD that swings out from the back of the camera. However, there are some notable changes inside this latest model from Canon.
Features worth noting
When you look at this class of DSLR, sophisticated entry level, there are a handful of impressive features that add value to this investment. In addition to a reliable picture taking machine, T3i owners can experiment with off-camera flash, record HD movies with great audio, and creatively play with their images while they're still in camera. Here are a few of those highlights.
Built-In Wireless Flash Control (new feature for Rebels) If you have an external Canon flash unit with wireless slave capability, such as the Speedlite 430EX II, you can fire it off-camera with the T3i. You don't need a separate wireless controller. Options include firing a single off-camera flash, balancing the off-camera flash with the built-in flash unit on the T3i, or operating multiple external flashes. The upshot is that with just one external flash and the T3i, you have a number of flexible lighting options. This is a powerful feature for a consumer camera, putting pro lighting techniques at your fingertips for an affordable price.
Vari Angle LCD (new feature for Rebels) The T3i's adjustable LCD is an excellent design for recording video. You flip open the LCD, then swing it out. You can angle up or down, or turn it completely around and fold it against the back of the camera. The resolution is terrific both for Live View capture and playback. When you're done, turn the screen around and secure it face-first against the back of the camera to protect it during transport. This encourages capture from a variety of angles helping you make more interesting movies while not straining your back and neck in the process.
Full HD Movie Recording with Controls On the T3i you can record 1920×1080 video at 24, 25, or 30 fps; plus 1280 x 720 video at 50 or 60 fps; or standard definition 640 x 480 video at 25 or 30 fps. Emerging filmmakers can opt for auto or manual exposure mode while shooting video, and even choose between auto and manual options for recording audio. The audio is further enhanced thanks to the built-in mini-stereo mic jack for an external microphone. There's even a built-in wind filter.
Video Snapshot Function This feature allows you to record a series of 2, 4, or 8 second video clips, then, without editing, the T3i combines them into one movie that can be saved to your Mac or played via the HDMI port that allows direct connectivity to an HDTV. Each Snapshot is saved to an album after you record it, and you have the opportunity to keep or discard the clip. Once you've captured the various sequences, go to playback mode and watch the fast-paced move you've just created. It's a cool feature that saves you a trip to the desktop movie editor. Once you're finished, disable the Video Snapshot mode to return to regular movie making.
Creative Filters After you've captured an image, you can continue to play with it via the Creative Filters mode in the playback menu. There are five to choose from: Grainy B/W, Soft Focus, Fish-Eye Effect, Toy Camera Effect, and Miniature Effect. Once you choose an effect, you can apply one of three different strengths. When you're finished, the T3i processes the image and saves it as a separate file on the memory card. The new Fish-Eye effect is a new addition to the Creative Filter line up, and one of the most interesting effects. Be careful, though, it can be addictive.
Setting Maximum Speed for Auto ISO Existing-light photographers will appreciate the ability to set the maximum speed for Auto ISO. Auto ISO, without a top limit setting, can sometimes result in noisy photographs. The T3i allows you to set the maximum ISO speed to a level you're comfortable with so you can use this feature with confidence.The available range is from 400 to 6400. If you're conservative about how high you want the ISO to go, then you can choose a setting such as 800 for the top end limit. But because this camera performs so well at higher ISOs, you can easily set the limit to ISO 1600 or 3200 and still get very good image quality. The choice is yours.
Star Ratings In Camera While viewing images in playback mode on the T3i, you can assign a star rating to it. These ratings are transferable to Aperture, Bridge, and Lightroom, but not iPhoto. So when you upload your images to your Mac, the star ratings are displayed to help you immediately identify your favorite shots.
Copyright Information Setting When you access the Copyright Information tab in the Menu, you can set the author's name and copyright details for every shot that is recorded with the camera.
Image quality
With either kit lens, the 18-55mm or the 18-135mm, the Canon T3i provides excellent image quality in terms of sharpness and detail. If you're tempted to upgrade to the 18-135mm kit lens for its extended zoom range (29-216mm in 35mm terms), then it's probably worth the bump in price. But in terms of image quality, the 18-55mm holds its own nicely against the upgraded zoom. So don't expect better pictures with the more expensive kit option. Base your decision on zooming range, not picture quality.
Even though either kit zoom isn't a particularly fast lens (maximum aperture ranges from f/3.5 to f/5.6 on both), the T3i is a reasonable low light performer because you can push the ISO to 1600, even 3200, and still get quality images.
In our lab tests, the T3i performed incredibly well in its test group, earning a word score of Superior in the Exposure, Color, Sharpness, and Distortion categories. Click on any of our lab's test images to view the original files.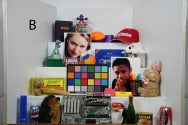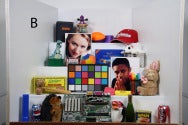 As for its video mode, the movies live up to the hype. You can produce excellent HD video with terrific audio (provided you use an external mic) with the T3i. It earned a word score of very Good for video quality, and Good for audio quality. Here are sample clips that we shot in bright indoor lighting and in low light with the Canon EOS Rebel T3i. For the highest-quality clips, select 1080p from the drop-down menu in the lower-right corner of each player.
Software
The Rebel T3i is a very Mac friendly camera. Lots of good Mac software is bundled with the camera including Digital Photo Professional for processing raw files, EOS Utility, and PhotoStitch for panoramas. Raw files can also be processed in the latest versions of Apple Aperture and iPhoto with Mac OS X 10.6.7. And the video files have the .mov extension, so no conversion is necessary for viewing on your Mac.
Drawbacks
The limited amount of physical real estate on the T3i seems to have influenced the location of control buttons. The Menu and Info buttons are awkwardly placed in the upper left corner of the back of the camera. They're not nearly as easy to access there as, for example, the 60D's placement of them on the right side.
The T3i would also benefit from the addition of a dedicated movie record button. Currently, you have to rotate the Mode dial to movie mode, then you can initiate recording with the Live View button on the back of the camera. It would be nice to directly access movie recording for those spontaneous moments.
And finally, as with most Canon cameras, Auto White Balance produces excessively orange cast when shooting without a flash under tungsten lighting.
Macworld buying advice
The Canon EOS Rebel T3i is a premium entry level DSLR that captures excellent still images and video. It is Mac friendly in terms of its bundled software, and its compatibility with Apple imaging applications. If you don't need the extended zooming range of the 18-135mm IS kit lens option, then you can save yourself a couple hundred dollars with the shorter 18-55mm kit zoom. Both lenses provide terrific image quality, and you can add lenses later as your budget allows.