Around 700,000 people are expected to watch the Space Shuttle Endeavour launch this Friday at 3:47 p.m. EST on its final mission to the International Space Station. Among them are 150 people selected by NASA to view the action close up at the NASA Tweetup (including this Macworld editor).
I asked some of the NASA Tweetup attendees if they had any favorite shuttle-related iOS apps. Here's what they came up with: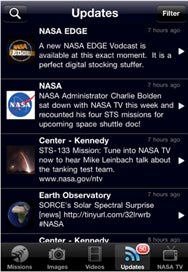 NASA's own free app brings you live streaming from NASA's public TV channel as well as countdown clocks, photos, and launch information. Watch the launch here as well as pre- and post-launch videos. You can also keep up with the @NASA Twitter feed from here. iPad owners have their own tablet-sized version of the NASA app. (Recommended by @jonverve and @eugenephoto.)
Latency:Zero's $5 MissionClock counts down the moments until the launch and brings together detailed information about current and future missions. It's optimized for the iPad as well as the iPhone and iPod touch. (Recommended by @vaxheadroom and by Jeff Leroy Davis via Facebook)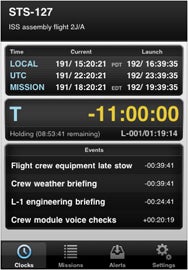 Atlantia Software's $1 SpaceGeek brings live streaming NASA TV to your iPhone and iPod touch as well as daily images, news feeds and video updates from the European Space Agency (ESA), Space.com, Universe Today, and more. (Recommended by @ageekmom)
Sascha Ledinsky's $3 F-SIM Space Shuttle is a universal iOS game lets you take part in the action with a detailed simulator that lets you land the shuttle at the John F. Kennedy Space Center or Edwards Air Force base. (Recommended by @schollem)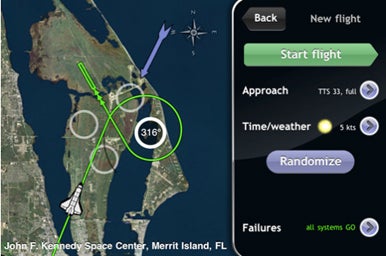 Note: When you purchase something after clicking links in our articles, we may earn a small commission. Read our affiliate link policy for more details.