For many of us, the first application we open in the morning is our e-mail client. Hour after hour, day after day, we check our e-mail repeatedly. Given that we spend this kind of time with a single program, it's important that it gives us as little trouble as possible. When it decides to act up, it's just as important that we set it straight as quickly as possible. Here are some solutions to common problems.
Transfer junk-mail settings to another Mac
You've been diligent about training Apple's Mail ( ) on your iMac to identify junk mail. The result is that good mail is rarely identified as bad and junk mail doesn't clutter your Inbox. You've now aquired a MacBook and would like it to be just as discerning. Is there a way to transfer the junk-mail smarts from one Mac to another? There is.
On your iMac, go to youruserfolder/Library/Mail and locate the LSMMap2 file. This is the file that holds your junk-mail settings. Copy this file to your MacBook and put it in the same location (replacing the existing file). The MacBook will now be as savvy about junk mail as the iMac.
Make Mail accept your password
There's nothing more frustrating that firing up your Mac in the morning and launching Mail only to have the program demand a password it already had just the day before. There are many reasons this can happen.
The first is that your Internet Service Provider's (ISP) mail server may be temporarily off-line. If you try again in a few minutes, Mail might work just fine. You might also be presented with this password request when a similar request was made just seconds before—your iPhone just accessed the account, for example, and now you're trying to get to it from your Mac. Or, if this is a business account, it's possible that the IT department changed the password for security purposes and you've failed to update. Worst of all, there's a chance that your account has been hacked and the hacker changed your password.
You have a couple of ways to check if the issue is with your ISP rather than your Mac. One is to attempt to retrieve mail using a different device—your iPad, for instance. If you meet the same resistance, it's likely one of these problems. The other is to retrieve your e-mail via your ISP's Webmail service. If the password works there but not with your Mac, this is a Mac problem.
To troubleshoot a Mac problem, open Mail's preferences (Mail -> Preferences), select the Accounts tab, and re-enter your password in the Password field. Then launch Keychain Access (found in /Applications/Utilities) and locate your e-mail account using the Search field (enter mail.me.com, for example). Enable the Show Password option. When prompted, enter your Administrator password and click Allow. Take a look at the password that appears in the Show Password field and make sure it matches the password you believe is correct. If there's no password, add it and click Save Changes.
Next, be sure that you're using the correct port setting. You'll find this setting by opening Mail's preferences, selecting Accounts, selecting the account in question, and clicking the Advanced tab. The receiving port will appear in the middle of the window. Your ISP or IT person can tell you which port you should be using.
If all else fails, delete the account in Mail's Accounts preference and recreate it. (If you have a POP account, be sure to back up your messages first, as they'll be deleted along with the account.) When you do, be sure that you have all the correct settings for configuring your account. Again, your ISP or IT person should be able to supply you with that information.
Send e-mail successfully from public places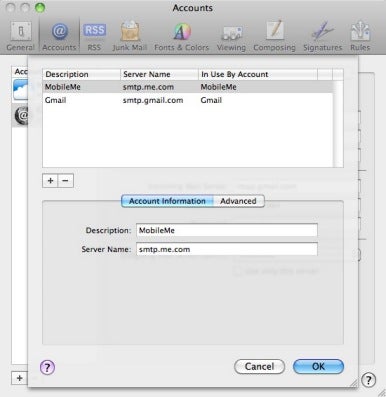 It's probably a piece of cake for you to send e-mail messages from home or your business, but you may find it difficult to do so from such public locations as coffee shops and hotels. The reason for this is that such locations often block common SMTP (Simple Mail Transfer Protocol—the e-mail transmission standard) ports.
One way around this is to add a free Gmail or Yahoo account. The SMTP ports used by these services are very rarely blocked. Then configure your Mail accounts to send from this account if it can't from your regular e-mail account.
To do that, launch Mail, open Mail's preferences, and select the Accounts tab. Select your regular e-mail account and in the Account Information tab be sure that your Gmail or Yahoo account appears in the Outgoing Mail Server (SMTP) pop-up menu. Now disable the Use Only This Server option. (You can add or delete SMTP servers by choosing Edit SMTP Server List from this pop-up menu and clicking the Plus or Minus buttons—as seen in the accompanying screenshot.) When you're next out and about and want to send e-mail, Mail will attempt to send from the SMTP server configured in the Account Information window. If it fails to do so, it will try any other SMTP servers found in the list of outgoing mail servers—and that includes a Gmail and Yahoo server.
Bring Mail Views to Outlook 2011
If you once used Microsoft Entourage ( ) but have since moved to Microsoft Outlook ( ), it's likely that you're missing Mail Views, an Entourage feature that didn't make the cut.
Entourage's Mail Views were akin to Apple's Smart Folders—a way to lump together messages defined by such criterion as when they were sent, the category the messages belonged to, and whether the messages were unread or read. Outlook lacks these templates but does include a search function and an official Smart Folder feature that allow you to create something similar. Here's how.
Click in Outlook's Search field. When you do, a Search toolbar appears. Click the Advanced button. From the beginning of the toolbar choose the source for your search—Folder, Subfolders, All Mail, or All Items. Then, click on the Item Contains pop-up menu and start configuring your search. To add another condition, just click the Plus (+) button that appears after the first condition. For example, I could create a two-condition search that seeks messages sent to me in the last two weeks from anyone with a macworld.com address by creating these two conditions: Date Sent Within Last 2 Weeks and From Contains macworld.com. Click Save and give your search a name. It's saved as a Smart Folder at the bottom of Outlook's Folders pane.
Because it's a "smart" folder that relies on conditions, the messages that appear in these folders will change as they do or don't match the folder's conditions. For instance, once messages are more than two weeks old, they will no longer appear in our example folder.
Updated 5/6/11 to encourage those deleting POP accounts to first backup their messages.