TapFactory on Thursday released TweetyPop for iPad, an app that reinterprets what it means to be an iOS Twitter client.
TweetyPop offers two main ways to your read your tweets: You can use a more traditional list view, or you can browse tweets in a pseudo-3D view instead. TweetyPop mostly focuses on the latter approach.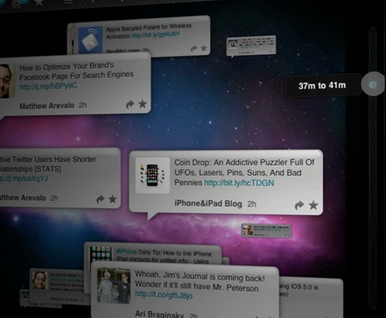 In that 3D view, tweets from your timeline are scattered all over the screen. When you finish reading a tweet, you can flick it away. The app also presents a Time Machine-inspired interface, which lets you travel back and forth through time—not in the DeLorean sense, but in the "looking at tweets from different timestamps" sense. So if you missed a barrage of Royal Wedding tweets in the wee hours of Friday morning, you could navigate back to them. (Spoiler alert: They got married.)
If you suffer from my own sickness (namely, that I attempt to read every tweet on my timeline), TweetyPop may not be right for you. But as you can see in the developer's video demo, TweetyPop's time navigation feature is undeniably cool, and could certainly enhance the Twitter experience for more casual tweet readers.
Of course, the app offers support for core Twitter features like replies, direct messages, favorites, and lists, too.
TweetyPop costs $2 and requires iOS 3.2 or later.