It's no coincidence that "bundle" is so often followed by "of joy." There's always joy and good cheer whenever anything is bundled, whether it's a newborn baby in blankets, or a bunch of Mac apps. And in this report, we've gleefully bundled together three stories of Mac software bundles. Prepare to feel overjoyed.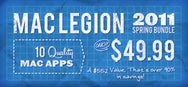 First up in our bundles bundle is the MacLegion 2011 Spring Bundle, which runs through May 13. The bundle includes Data Rescue, ScreenFlow, Contactizer Pro, Virus Barrier, Forklift, LaunchBar, Amadeus Pro, Radio Gaga, Printopia, and MacPilot. The price for this bundle? $552. Wait, no, sorry, that's the price if you bought all those apps individually. The bundle's price is just $50—more than 90 percent off. (In fact, three apps—Data Rescue, ScreenFlow, and Contactizer—each individually cost more than the entire bundle.)

But a bundle of bundles isn't a bundle unless we bundle one bundle with another. So when you're done drooling over the MacLegion bundle, you might want to check out MacBundlePro's OS X Bundle. This one also runs through May 13, and it includes these nine apps: Speedy Mac, WhatSize, AppDelete, Raskin, Breeze, MacTuneUp, Protect Files, Quokka, and Share. All told, those apps could set you back $183, but thanks to the magic of bundling, the whole slew combined costs just shy of $20—a savings of 89 percent.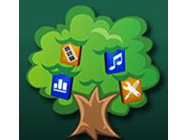 Can two bundles a bundle bundle make? That's not for me to say, but we needn't stress that philosophical question today: We have a third bundle to add to this bundle bundle. TheMacBundles is offering its May Bundle, which comprises ten apps and expires on May 22. The apps involved in this bundle: A-Dock X, Automaton, BookMacster, Deliver Express, Master Key, Photo Recovery, PrintMagic, SuperCal, WebStart, and SwitchResX. The May Bundle costs $40—a savings of 88 percent off the combined $335 price tag.
No bundles were harmed in the making of this report.