Since Apple introduced stationery to Mail in Mac OS X 10.5 Leopard, a handful of shops like Jumsoft and Equinux have offered add-on stationery packs that offer a little variety from Apple's slim selection. Now Equinux is going one step further with Mail Designer, a new tool that allows you to design and customize your own stationery for Mail.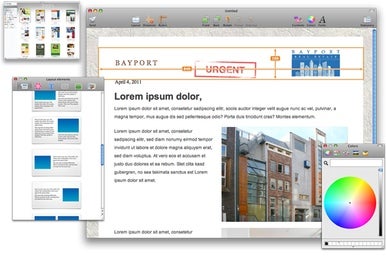 Mail Designer comes with a handful of its own templates, as well as a blank canvas in case you'd rather start from scratch. A broad set of layout, graphic, and text-editing tools allows you to add things like three-column promotion blocks, charts, textured backgrounds, and banners.
You can think of Mail Designer as "iWeb for Mail templates," as it looks to be a fairly powerful way to drag-and-drop your way to creating branded company announcements, event invitations, sales offers, and family newsletters. When your Mail template masterpiece is ready for prime time, you can save it to Mail for easy access from the new message stationery tool.
A media browser incorporates Mac OS X's iLife integration, allowing you to easily drag photos from iPhoto and Aperture into your layout. Alternatively, you can use placeholders in your layout so that, as with some of Apple's default stationery, you can drag any photos you want when creating new messages with your template in Mail.
A free trial of Mail Designer is available as long as you're using Mac OS X 10.5.8 or later on an Intel Mac. If it unlocks your Mail stationery muse, licenses start at $70.