Welcome to our latest iPad case roundup, where we scour the deepest recesses of the Internet to bring you the latest—and sometimes the strangest—in the world of tablet protection. This week's installment is short, but it takes us into the realm of the eclectic with some unique designs. Let's tuck right in!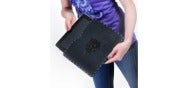 Dead.net: The Skeleton and Roses (iPad; $78) is not your typical iPad case. Made entirely of hand-sewn leather, it features the skull-and-roses logo from the Grateful Dead's 1971 self-titled album. With its unique design, this case will protect your iPad and advertise you as a Deadhead wherever you go.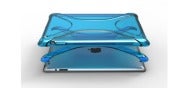 Pinlo: The Xyber Pro 2 (iPad 2; $40) is an interesting two-piece case with a back harness designed to keep your tablet's aluminium surface from getting scratched, and a rigid-plastic front cover to protect the screen. The cover can be flipped around and hooked on top of the back harness for maximum convenience while you use the device. The Xyber Pro 2 is available in black, clear, or sky blue.
Speck: The FitFolio (iPad 2; $40) features a custom "cradle" (Speck's term for a form-fitting frame) that keeps your tablet protected without adding significant bulk, along with a cover that doubles as a viewing stand or typing platform. It's available in black, red, or grey.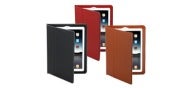 XenGadget: The Yoobao Executive (iPad 2; $40) is a folio made of genuine leather and available in black, red, or brown. It weighs a little more than six ounces and supports the magical device's magnet-induced sleep feature.
iPad (1st generation) Family