That didn't take long. After months of waiting and speculation, Apple this week finally—finally!—released the white iPhone 4…and companies immediately started pitching accessories aimed specifically at adorning and protecting the new ivory wonder. But don't worry—if you've got a plain old black iPhone 4, there's stuff for you in this week's roundup, as well.
BodyGuardz
The body-film maker jumped into the white iPhone market with the $20 Armor Carbon Fiber, a PVC-based, carbon-fiber-texture film that adheres to the back of your phone to provide protection against dents and scratches. The Armor was previously available for black phones, but the new version comes in white, ensuring that your white iPhone is as white as it can be. The company is also quick to point out that its Clear Skins ($10 to $25, depending on coverage)—thin, transparent films that can cover the back, screen, and sides of the iPhone—fit the white iPhone. Both products are available for immediate shipping.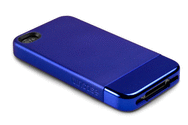 Incase
If you're looking for choices beyond black or white, Incase has a solution. The $35 Monochrome Slider Case comes in eight different colors—including "Hibiscus," "Shamrock," and "Tomato"—and offers hardshell construction, a chrome-finish bottom piece, and interior rubber guardrails for shock absorption.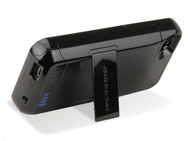 Scosche
Accessory maker Schoshe's latest product protects, powers, and props up your phone. The $80 SwitchBACK surge g4 contains a lithium-ion battery that can restore 80 percent of a charge to a power-depleted iPhone. The case comes with a pair of interchangeable backs that let you customize the case to your need—one back piece lets you clip the phone to your belt, while the other props up the device for hands-free landscape-orientation video viewing.
Trident
Get ready with your "Clash of the Titans" jokes: Trident has released the Kraken! The $45 Kraken II case features polycarbonate shell overlaid with silicone, and includes a screen protector, a kickstand, and a holster. The bottom of the case has a removable sleeve for easy docking.