Scorched Earth was a great, great game. Against painfully simple graphics, you set your missile's angle of trajectory and degree of force, and then let 'er rip. If your aim was steady and true, your enemies blew up. What could be better?
Well, I'm a father now, to three very young children. Thus, these days, I prefer my gaming fun to involve a bit less killing—at least when the children are around. My newfound pacifistic gaming tendency explains the limitless delight I've felt since discovering Super Stickman Golf, a Scorched Earth-esque game from Noodlecake Games that focuses on miniature golf, instead of murderous rage.
Of course, Super Stickman Golf isn't a new arrival to the App Store. It's been around for a bit under a different moniker, Super Stick Golf. But a recent update to the game brought about a trademark dispute-inspired name change. More important, however, the 1.2 update, introduces multiplayer support, which makes an already must-have game even more of an iOS stand-out.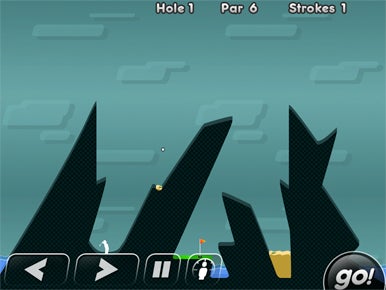 Before we talk about that, though, let's review: You play the game as the titular Super Stickman, with three course packs. Classic offers 16 beginner courses, Super includes eight intermediate courses, and Expansion sports five painfully advanced courses from which to choose. Each course includes nine holes. So right from the start, there's a lot of gameplay packed into Super Stickman Golf.
Only one course in each pack is unlocked at the start. You unlock additional courses by playing well; if you meet or beat par on the previous course, you unlock the next. Alternatively, you can spend your hard-earned cash on in-app purchases to unlock some or all of the other courses and bonuses, but that feels dirty to me.
When you select a course—say, The Cliffs, par 47—you first choose whether you want to play all nine holes or practice just one of them. If you choose to play the full nine, you then get to load up your golfbag with power-ups. These include Mulligan, which lets you retry a laughably errant shot, or Sticky Ball, which lets your ball temporarily stick to walls. As with the courses, you'll need to unlock the power-ups through various achievements.
Once you've stocked your golfbag, you're ready to play. You adjust your shot's trajectory using large virtual buttons, and then tap the Go circle when you're satisfied. That triggers the power meter control; you tap a second time to choose the level you're after, and then it's fire in the hole. Or, more preferably, your golf ball.
The controls are easy to learn, and the physics on display feel just right. The controls feel a smidgen fussier when putting, but once you learn the game's nuance in that area, it's no problem.
Super Stickman Golf throws all sorts of obstacles in your ball's bath: Besides occasionally dastardly hole layouts, where the landscape alone is a challenge, there are sand traps, water hazards, conveyor belts, and undoubtedly others I haven't encountered yet. Navigating each hole is incredibly fun, and often involves the hilarious frustration you might expect—when your just-slightly-off shot ends up ricochetting right back in your face, for example.
Some holes fit easily on the iPad's screen. Other times, you may need to pan around. You can also zoom in and out—at least, some of the time. Some holes aren't zoomable, which means you can't see the flag from your starting point unless you scroll back and forth. The game even works on the iPhone, complete with Retina Display-enhanced graphics; it's still very fun on the smaller screen, but I prefer playing with all the extra real estate the iPad affords.
Like Angry Birds, Super Stickman Golf offers various stars depending upon how efficiently you complete each course. If you play through all 261 holes, there's plenty of replayability in trying to best your scores (and earn more gold stars).
As a single-player game, Super Stickman Golf is a great iOS offering. What pushes the game into stratospheric levels of excellence, however, is its multiplayer mode. You can challenge opponents locally over Bluetooth, or over Wi-Fi through Game Center. The game's approach to multiplayer is nothing short of laugh-out-loud funny: You race up to three other opponents in real time, scoring points when you complete a hole first. Adding a speed element to golf seems like such a no-brainer that you'll question how the PGA can continue to ignore such advancements in the game.
Super Stickman Golf is awesome. It's Scorched Earth without death, and it's golf without plaid pants and sun exposure. The game's retro look isn't as cute as Angry Birds, but I'm willing to put this out there: Super Stickman Golf is even more fun than those grumpy avians.
[Lex Friedman is a Macworld staff writer.]