At a Glance
Expert's Rating
Our Verdict
Available in five colors, this clear silicone wrap fits snugly around your CDMA-based iPhone 4.
Apart from a splash of color, there's nothing fancy about the Flex-Gel Case from iLuv. But the silicone wrap will properly protect your Verizon iPhone 4 in a fairly attractive package.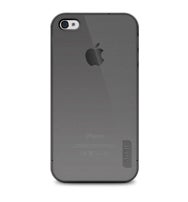 The Flex-Gel wraps around your iPhone 4, saving the back and sides from scratches but leaving the front screen uncovered. (iLuv includes a protective film you can apply to the front of your phone.) There's enough of a ridge hugging the front of your iPhone to keep the screen from coming into contact with other surfaces, though the Flex-Gel's ridge is a little thinner when compared to similar cases.
Openings on the bottom, side, and top let you access the dock-connector port and speakers, the ring/silent switch, and the headphone jack, respectively; the case also features an opening in the back for the rear-facing camera. That headphone jack opening should be big enough to accommodate most third-party headphones in addition to easily fitting the earbuds that Apple includes with the iPhone 4. Ridges along the side and top let you control the volume buttons and sleep/wake button; iLuv has thoughtfully made those ridges prominent enough to find by touch, making them easy to operate.
The sides of the Flex-Gel are a bit more rigid when compared to the bulk of wrap-around iPhone 4 cases, but that's good thing—it provides your phone with a measure of protection, while allowing you to slip the device in and out of the case without a problem.
This particular model of the Flex-Gel is designed specifically for CDMA-based iPhone 4s that run on Verizon's network. If you try to slip a GSM model in the case, you'll have to contend with an obscured ring/silent switch. (iLuv says its Translucent case is the GSM-compatible equivalent of the Flex-Gel.)
You can choose from among five colors—black, white, blue, pink, and gray—to add a little personalization to your protection. (No matter the color, the Apple logo on the back of your phone is still visible through the case.) The $25 Flex-Gel may lack some of the eye-catching patterns that other iPhone 4 cases favor, but its form-fitting protection is a solid choice for keeping your Verizon iPhone safe and sound.
[Philip Michaels is the executive editor of Macworld.com.]