At a Glance
Expert's Rating
Our Verdict
The use of two distinct parts adds to the durability of this iPhone 4 case.
iFrogz wants to give you the best of both worlds with the Swerve, its two-piece iPhone 4 case. And for the most part, the case-maker delivers—if you overlook some of the effort it takes to slip the case on and off.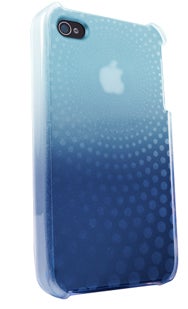 Two distinct parts make up the Swerve. A rigid plastic frame snaps onto your iPhone 4, covering the back and sides. You slip a jelly exterior over that—it not only provides an extra layer of shock absorption, but its ridges keep the iPhone 4's screen from coming into contact with any surfaces if you set down your phone with its back facing up. That's an important point as, unlike some other case makers, iFrogz doesn't include a protective film for your screen with the Swerve.
It takes a little big of doing to lock the Swerve into place on your iPhone 4. The plastic case is very firm, so it requires some pushing to squeeze the phone inside of it; popping out the phone takes even more effort. Slipping the jelly wrap over the phone requires a little bit of extra effort as well, especially when it comes to securing the corners. Even then, the thin bands of silicone at the top and bottom of the phone felt a little loose to me.
The Swerve features large openings on the top and bottom for assorted speakers, ports and buttons (and an opening on the back for the rear-facing camera, of course). Likewise, a single opening on the side lets you access the volume buttons and the ring/silent switch. This makes the Swerve compatible with both GSM- and CDMA-based models of the iPhone 4.
Users who place a premium on aesthetics will appreciate the Swerve's design. The hard plastic shell features a spiral of increasingly larger dots that, when the phone is placed properly inside the case, seem to flow out of the Apple logo on the back of your iPhone 4. iFrogz offers three color combinations for the $30 Swerve—baby blue and dark blue, lime and pink, and teal and orange. The two-tone effect will certainly please some iPhone owners, though the effect seemed muted on the baby blue/dark blue model I tested.
The Swerve's two-fisted approach to protection certainly makes this case feel more durable than other iPhone 4 cases I've looked at. If you don't mind the effort required to squeeze your phone into the case and don't see the need for a protective film for your phone's screen, the Swerve adds solid protection in a very pretty package.
[Philip Michaels is the executive editor of Macworld.com.]