At a Glance
Expert's Rating
Our Verdict
This iPhone 4 cases offers a secure enclosure and grippable tire tread pattern to both AT&T and Verizon iPhone 4 models.
It's difficult to look at the iPhone 4 Treadz case from iFrogz and not compare it to Case-Mate's Vroom iPhone 4 case. After all, both silicone iPhone 4 cases feature a distinctive tire tread pattern and both will fit either AT&T or Verizon versions of Apple's smartphone. But a closer inspection of the different cases finds that iFrogz's Treadz provides better protection and an easier grip, even if its fit is less than perfect.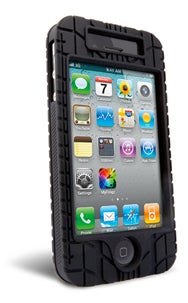 Unlike the Vroom which wraps around the back and sides of the iPhone 4, the Treadz case carries the protection to the phone's front face. iFrogz's case wraps around the front of the phone with openings for the Home button, the front-facing camera and speaker, and, of course, the screen. iFrogz doesn't include a protective film for the iPhone's screen with the Treadz, but the case's front wrapping will keep any surfaces far away from the screen should you ever lay your phone facedown.
The extra wrapping gives the Treadz a protective edge over the Vroom. While the latter felt a little flimsy to me—I was able to make the bottom of the Vroom slip off rather easily—the Treadz tightly hugs your iPhone 4. There's another benefit as well—iFrogz extends the tire tread pattern all the way around the Treadz, making it easier to grip.
There are some notable flaws to the Treadz, however. The side opening that gives you access to the volume buttons and the ring/silent switch is a bit of a tight fit on the Verizon iPhone 4, with the lower volume button brushing against the edge of the opening; the fit's a little better on AT&T models. The openings at the top are imperfect on both iPhone 4 models, though—the sleep/wake button is slightly covered making it more difficult to press than it should be, and the hole for the headphone jack is very small. Apple's included earbuds will fit just fine, but accessories with slightly larger plugs may be in for a tight squeeze. More troubling, the Treadz case covers the microphone at the top of the iPhone 4.
If adding an automotive look-and-feel to your iPhone 4 sounds appealing, the Treadz would be my choice over the Vroom thanks to its tighter fit and more grippable sides. Just be prepared to make some compromises with how the Treadz accommodates the iPhone's assorted buttons and ports.
[Philip Michaels is the executive editor of Macworld.com.]