On Tuesday, Apple announced a new generation of iMac models, running at speeds up to 3.4 GHz and powered by the next generation of Intel Core i5 and Core i7 processors. The models also build in support for the new Thunderbolt high-speed peripheral connection interface that debuted in Apple's MacBook Pro line earlier this year.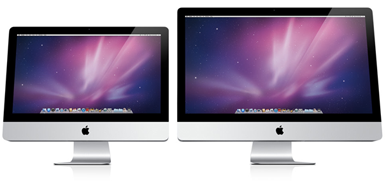 The watchword of the new model is "performance," thanks to improvements in the processor line, graphics architecture, and Thunderbolt ports.
In terms of processors, Apple has shifted to Intel's second-generation Core technology—codenamed "Sandy Bridge"—for the iMac line. "What Intel has done is very tightly engineer the processor, the graphics, the cache, and the memory controller on a single die," said Apple's David Moody, vice president of hardware product marketing. Moody said this accelerates data transfer between processor components, resulting in some impressive performance gains.
In addition, the processor architecture upgrade has enabled a transition to quad-core processor configurations across the iMac line—in comparison, the previous iMac line had only a single quad-core configuration on the highest-performance model.
"What we see as a result of moving from dual-core to quad-core and old architecture to new architecture is 70 percent faster performance than the old models," said Apple's Moody. "Even in the top-end, moving from the old quad-core configuration to the new quad-core configuration has seen 30 percent faster performance."
Processors aren't the only place that the iMac has seen a significant boost; the desktop line now sports the latest generation of AMD Radeon HD discrete graphics processors. The high-end Radeon HD 6790M boasts 1.3 Teraflops of performance and is up to 80 percent faster than the previous generation. Moody described the technology as "Mac Pro-class graphics" and said it's the "first time we have the same level of performance in the iMac that you'd have in a Mac Pro." The gains aren't limited to high-end either; even the entry-level version's Radeon HD 6750M graphics processor clocks in at three times faster than the previous configuration.
For external connectivity, the new iMacs boast the same Thunderbolt ports introduced in Apple's new MacBook Pro line released in February. Co-developed with Intel, Thunderbolt offers two bi-directional channels that can transfer data at up to 10Gbps each—12 times faster than the theoretical maximum of FireWire 800. The technology is based on the PCI Express protocol that most Macs use for internal I/O, but via adapters it can support pretty much any other type of connectivity protocol, including FireWire, USB, and Gigabit Ethernet.
The smaller iMac sports a single Thunderbolt port while the larger version includes two—Moody confirmed that those ports are independent as well, meaning that users essentially have four 10Gbps channels. That allows, for the first time, the 27-inch iMac to drive two external displays—and that's in addition to other high-speed peripherals. Moody also said that the adoption of Thunderbolt is progressing, with several vendors announcing plans for compatible peripherals at the NAB show last month.
As with the MacBook Pro refresh also earlier this year, the iMac line also now has a FaceTime HD camera for video conferencing. The camera supports 720p high-definition video in a 16 by 9 widescreen format, and supports a wider viewing angle to make it easier for multiple people to get in the picture. High-definition video calls are only supported between Macs with a FaceTime HD camera, such as the iMac and MacBook Pros—calls with other Macs or iOS devices are limited to standard definition.
The new machine comes in four basic configurations: two 21.5-inch models with a 2.5GHz Quad-Core Intel Core i5 and 2.7GHz Quad-Core Intel Core i5 processor respectively, and two 27-inch models with a 2.7GHz Quad-Core Intel Core i5 and 3.1GHz Quad-Core Intel i5. Apple is also offering build-to-order Web-only options to bump the 21.5-inch model to a 2.8GHz quad-core Intel Core i7, and the 27-inch model to a 3.4GHz Intel Core i7; the i7 processor upgrades add $200 to the cost.
The low-end 21.5-inch model sports a 500GB hard drive and an AMD Radeon HD 6750M with 512MB of video RAM, while the more powerful 21.5-inch configuration has a 1TB hard drive and an AMD Radeon HD 6770M with 512MB of video RAM. Both versions feature a 1920 by 1080 pixel display and 4GB of memory. They retail for $1,199 and $1,499 respectively.
Both of the 27-inch models sport a 1TB hard drive, 4GB of RAM, and a 2560 by 1440 pixel display. The 2.7GHz model has an AMD Radeon HD 6770M with 512MB of video RAM, while the 3.1GHz model has an AMD Radeon HD 6970M with 1GB of video RAM. They cost $1,699 and $1,999 respectively.
Additional build-to-order options include 2TB hard drives, an additional 256GB solid-state drive instead of or alongside the main drive, and up to 16GB of DDR3 memory. Customers can choose a Magic Mouse, a Magic Trackpad, or both with their order.
The new iMac also meets the Energy Star 5.2 requirements and achieves EPEAT Gold rating, according to Apple. The computer is built with components that are free of mercury, arsenic, PVC, and brominated flame retardants.
Updated at 6:29 a.m. PT with more details on hardware components and comments from Apple.
27-inch Core i5 iMac/2.7GHz (quad-core)
21.5-inch Core i5 iMac/2.7GHz (quad-core)