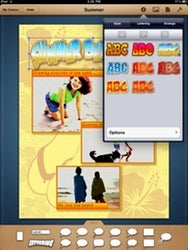 Plasq on Tuesday released Comic Life for iPad, a new incarnation of its software for turning your digital photos into comics.
Despite seeming like an obvious fit for the touchscreen, Comic Life for iPad marks the software's first foray into iOS (the existing Mac and Windows have been around for a while). The new iPad app includes ten "fun and quirky" templates and 67 fonts. You can pull in photos from your photo library (and from Photo Booth on the iPad 2), and then begin the process of converting them into comics. Note that you're not turning your photos into Steve Martin or Ricky Gervais; rather, you're stylizing them to look like something out of a comic book.
The app offers various image filters to make your photographs look more comic-ish, but the real fun comes from assembling together speech balloons, thought bubbles, captions, panels, and text to make your comic masterpiece. Comic Life lets you drag and drop elements anywhere on a page, as well as resize and rotate your images so they fit correctly. Built-in templates let you choose from different full-page layouts, or you can start fresh from a blank page.
When you're done assembling your photo comic, Comic Life offers full reading and sharing support; you can send your comics via e-mail or Facebook, and read your friends' comics right within the app. There's also support for AirPrinting your masterpieces.
Comic Life costs $8 and requires iOS 4.3 or later.