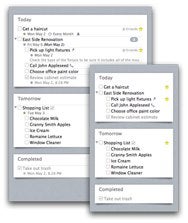 Getting things done with Appigo's popular Todo apps for iPhone and iPad has finally come to your desktop. On Tuesday, the company announced the forthcoming Todo for Mac.
On iOS, Todo has been a full-featured task manager that offers flexible features and an interface that can follow the Getting Things Done philosophy or your own. You can manage projects or create simple to-do lists, focus on a particular collection of tasks, create tasks from a handful of third-party apps, set tasks to repeat and alert you multiple times, and sync between devices.
Now Appigo is bringing Todo and its many task-slaying features to the Mac. You will also be able to open separate "Multi-Adaptive Windows" in order to, say, use one for high-priority items, and another for your inbox, so you can jot down ideas for organizing later.
In conjunction with Todo for Mac, Appigo has also announced Cloud Sync, an over-the-air service for keeping your Todo tasks and lists on the same page between your iOS devices and your Mac. Like Cultured Code's new Cloud Sync beta for Things, Appigo's Clound Sync is a hosted service—it's offered as a paid feature of Todo Online, Appigo's Web-based task manager, for $20 per year. Todo for iPhone and iPad were updated Tuesday to support this new feature.
Appigo has yet to pin a price or release date on Todo for Mac besides summer 2011, but the company says the software will be available in the Mac App Store. If you're interested in helping to test the beta and stamp out bugs, you can apply to the beta program on the Todo for Mac site.