In all the excitement over the brand new iMacs announced this morning, it seemed as though one feature of the older models—Target Display Mode—had fallen by the wayside. But, as it turns out, news of the feature's death is, well, mildly exaggerated.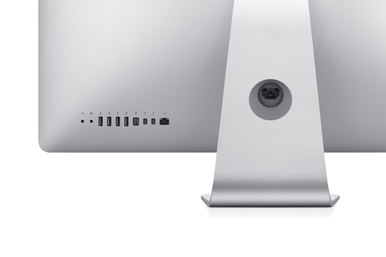 Apple has confirmed to Macworld that the new iMacs can be used as external displays via their Thunderbolt ports. However, to do so, you'll need a Thunderbolt-equipped Mac, such as one of the early 2011 models of MacBook Pros. Connecting the MacBook Pro to either the 21.5-inch or 27-inch Thunderbolt-equipped iMac will let you use the desktop as a display for the notebook.
However, this feature doesn't work with older Macs that have only a Mini DisplayPort connector. Apple does not appear to be providing adapters to accommodate this capability, and there's no news from third parties of compatible adapters either.
But what if, as I'm sure you're wondering, you plug two Thunderbolt-equipped MacBook Pros into a 27-inch iMac's two Thunderbolt ports? Do they fight for screen space? Does the most recent addition win? Does it cause all three to melt into slag? We've got our hands on test units of the new iMacs, and we'll be checking out their capabilities (and hopefully not disintegrating them), so stay tuned.
27-inch Core i5 iMac/2.7GHz (quad-core)
21.5-inch Core i5 iMac/2.7GHz (quad-core)
Note: When you purchase something after clicking links in our articles, we may earn a small commission. Read our affiliate link policy for more details.
Dan has been writing about all things Apple since 2006, when he first started contributing to the MacUser blog. He's a prolific podcaster and the author of the Galactic Cold War series, including his latest,
The Nova Incident
, coming in July 2022.