Zoho, maker of a wide variety of Web-based productivity apps similar to Google Docs, has increased the market for Mac-friendly online meeting services by one.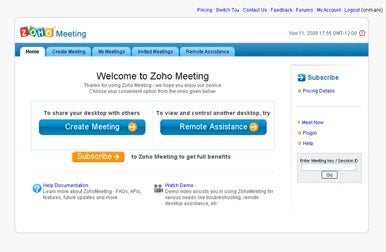 Announced on Zoho's blog, Zoho Meeting now features full support for the Mac, thanks to a new browser plugin the company released. This plugin allows you to take advantage of Zoho Meeting's features to start or schedule meetings, share your screen, participate in audio or text chats, and join meetings started by Windows users through Zoho's Web service.
Participants can be invited simply by entering their e-mail addresses, and you can switch between presenters during a multi-participant meeting.
Zoho offers a free plan for Zoho Meeting that starts at one host, one participant, and one hour per session. It also includes perks like audio conferencing and SSL support. If you need a little more zing out of Zoho Meeting, paid plans begin at $12 per month (or a discounted price of $115 per year) based on the number of participants you need. Paid plans also gain things like unlimited session duration, secure file transfer, the ability to embed meetings on Websites, and more.