Billy Joel wannabes who would rather play with their iPhones than take piano lessons, rejoice! Smule, the company behind musical iOS apps like Ocarina, Leaf Trombone, I Am T-Pain, and Glee, has launched Magic Piano for the iPhone and iPod touch.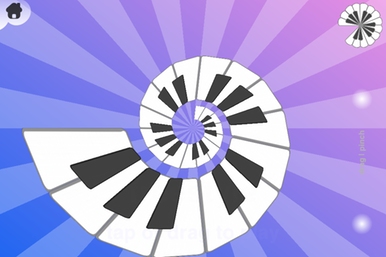 Magic Piano already exists as a $1 iPad-only app, but this new version is specifically designed for Apple's smaller iOS devices, and Smule's embracing a new freemium model by giving it away for, you might say, a song. The core app lets you play one of three pianos—a more traditional one, a spiral keyboard, or a circle of keys. As you play, you can pinch and zoom to adjust the range of keys visible, and also scroll through the octaves.
In-app purchases help piano amateurs unlock the ability to play pop and classical hits, from "Poker Face" to "Moonlight Sonata"; you control the notes and tempo, but Magic Piano guides you when to strike which virtual notes by lighting them up. Smule says it will release one new free song to play along with each Wednesday.
Once you've created your masterpiece, you can share it on the Smule Globe. You can also spin through the globe to tune into other strangers and check out their recordings.
Magic Piano requires an iPhone 3GS, iPhone 4, or third- or fourth-generation iPod touch running iOS 4.0 or later. You can also run it on an iPad in iPhone emulation mode, but the native iPad app is likely a much better experience.