Reader Michael Beaudoin is frustrated with an iPhone that has too much information on it. He writes:
I have an iPhone and MobileMe. When I sync iCal to MobileMe and my iPhone, I get duplicates (and sometimes triplicates) of items in my iPhone calendar. I have syncing to calendars in my Sync Preferences and in iTunes checked. I've tried various combinations of checking and unchecking but still get the duplicate entries.
Harkening back to a recent Mac 911 entry, allow me to reiterate that Apple's syncing strategy needs a stern overhaul. When you throw MobileMe, Google, and iTunes syncing into the mix and aren't aware of how they interact it's easy to find yourself in this kind of situation. Let's see if we can bring some clarity.
First, you're in danger of getting duplicate items if you've switched on calendar syncing with both MobileMe and iTunes. To check, attach your iPhone to your Mac, select it in iTunes' Source list, choose the Info tab, and peer at the Sync iCal Calendars entry. Look for these these words:
Your calendars are being synced with MobileMe over the air. Your calendars will also sync directly with this computer. This may result in duplicated data showing on your device.
This is a very strong hint that you're doing The Bad Thing and that you need to make a choice between syncing with your Mac or with MobileMe. You can disable calendar syncing within iTunes by unchecking the Sync iCal Calendars option. When you do, iTunes will offer to remove its calendar entries from your iPhone. Or, turn to your iPhone, choose Mail, Contacts, Calendars; select your MobileMe account; and flick the On/Off toggle switch next to the Calendars entry to Off. You'll be offered the option to delete these calendar events from your iPhone.
(Still not sure what's going on? Launch the Calendar app on your iPhone, tap the Calendars button in the top-left corner, and look at the headings on the resulting Calendars screen. If you see one entry for From My Mac and another that includes your MobileMe address—example@me.com, for instance—you're duplicating your efforts.)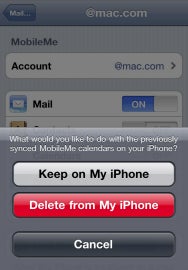 But suppose you have different events in the calendars you synced from your Mac and those that are synced via MobileMe and you'd like all of your events on the iPhone. What to do? Try this:
Attach your iPhone to your Mac and in the Info tab disable iCal syncing. When offered to keep or remove the calendars currently on the iPhone, choose to keep them and click the Apply button at the bottom of the window. Now move to your iPhone, choose Settings -> Mail, Contacts, Calendars and select your MobileMe account. Flick the On/Off toggle next to Calendars to Off. Again, you'll be offered the choice to keep or delete your calendars. In this instance, delete them (don't worry, they're stored in the cloud). Now switch this Calendars toggle back on. In the sheet that appears, tap Merge.
What happens? The duplicate events currently stored on your iPhone (the ones synced from your Mac) and on MobileMe will be merged into a single event. Any additional events not found in your MobileMe calendar will be added to MobileMe.
Did I mention that Apple's syncing strategy needs a stern overhaul? Let's hope the iCloud rumors are true and we get exactly that.