A California class action lawsuit puts Apple at the center of a conspiracy involving Google, Adobe, Intel and others to keep employee wages down.
The suit echoes an investigation launched by the U.S. Department of Justice in 2009 that charged the companies with agreeing not to cold call each other's employees in order to extend job offers. The companies settled with the DOJ, agreeing not to ban cold calling and not to enter into any kind of agreement that prevents competition for employees.
But that settlement didn't help employees who were potentially paid less because of the deals, the lawsuit, filed in the Superior Court of California in the County of Alameda on Wednesday, argued.
"Without this class action, Plaintiff and members of the class will not receive compensation for their injuries and Defendants will continue to retain the benefits of their unlawful collusion," according to the suit.
The suit charges the companies with violating antitrust and unfair competition laws for forming agreements aimed at keeping employee compensation artificially low and eliminating competition among the defendants for skilled labor. The suit was brought by Siddharth Hariharan, a former software engineer at Lucasfilm.
The companies agreed to provide notification to the employer when making an offer to an employee and, when offering a position to another company's employee, neither company would counteroffer above the initial offer, according to the suit.
"The intended and actual effect of these agreements was to fix and suppress employee compensation and to impose unlawful restrictions on employee mobility," the suit reads.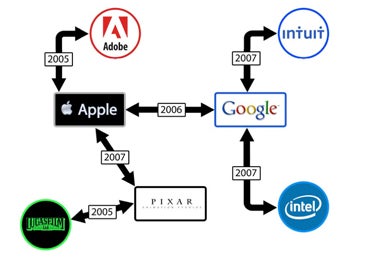 The suit charges Apple with instigating the deals and even features a diagram depicting Apple's central place in the scheme, which also included Intuit, Pixar and Lucasfilm. "Every agreement alleged herein directly involved a company either controlled by Apple's CEO, or a company that shared a member of its board of directors with Apple," the suit said.
The agreements among the companies started when Pixar and Lucasfilm agreed to eliminate competition between them for skilled labor, the suit alleges. Apple CEO Steve Jobs started Pixar when he bought Lucasfilm's computer graphics division.
Next to enter into an agreement against poaching with Apple was Adobe, according to the suit. Google, which shared a board member with Apple at the time, was next. The other companies followed, entering into identical agreements, the suit alleges.
The plaintiffs are asking the court for certification as a class and restitution and damages.
Apple, Google, Intel, Intuit, Pixar and Adobe did not return requests for comment. Lucasfilm could not be reached.