At a Glance
Expert's Rating
Our Verdict
The recent iPhone location-logging controversy caused quite a stir in the media. But as I noted on Twitter a couple weeks back, many of the people upset that their phone keeps track of nearby GPS towers and WiFi access points are oblivious to the fact that their Web-browsing habits are being tracked—often with far more detail—every time they go online.
For example, pretty much any blog or news site you visit (yes, including Macworld.com) uses scripts and tiny (or invisible) images—often called bugs—to track your online behavior and, usually, provide that information to ad networks and other Web-usage trackers. Whereas prior to iOS 4.3.3, someone with access to your iPhone's backup could get a general idea of where you've been, chances are numerous companies have detailed profiles that include the kinds of sites you visit, which topics you find interesting, and possibly even specific items you've purchased.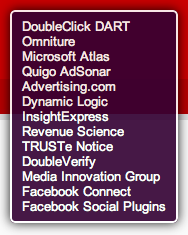 Some will say this is just part of using the Web. But if, like me, you'd rather not make it so easy for companies to build a profile of your 'net activity—or if you'd at least like to be able to know when that activity is being tracked—check out Ghostery, a Safari extension (also available for Firefox, Chrome, and Internet Explorer). With Ghostery installed, whenever you visit a Web page that uses such tricks to track, you'll briefly see a box listing all the services that are tracking your visit to that page.
Click the Ghostery icon in Safari's toolbar, and you get a detailed list of each of those service along with the specific script(s) each is using on that Web page. Click a script to view it in a new Safari tab or window. Click the More Info link next to a service to view Ghostery's page for that company, which includes information about the company; contact information; a link to the company's full privacy policy; and a summary of the types of data the company collects, how that data is shared, and how long it's retained.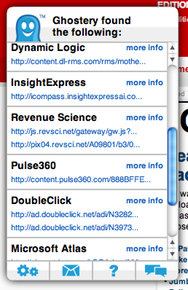 (The developer of Ghostery has posted an amusing—if a bit disturbing— Facebook gallery of screenshots of Web articles about online tracking…along with the Ghostery notification box showing the services tracking your viewing of each article.)
But Ghostery does more than just reveal who's tracking you. It also lets you block that tracking. Check the Enable Bug Blocking box in Ghostery's settings screen, and Ghostery actively blocks the loading of tracking images and the running of tracking scripts. (You know Ghostery is blocking these items because its notification box then displays each service with a line through it.)
Ghostery checks for tracking bugs from over 200 companies, and it can automatically update that list with new or modified info; alternatively, you can choose to manually update the list. If there are specific services—for example, TRUST3, the company that certifies Website-privacy practices, or Omniture, a service used by sites such as Macworld.com to track site usage and article readership—you want to allow, you can uncheck the box next to each in the settings screen. You can also manually enter sites for which you want Ghostery to allow all tracking—even for those particular services you've blocked.
Finally, Ghostery includes an optional feature—disabled by default—called GhostRank. If you enable this GhostRank, Ghostery will collect anonymous information about the Web bugs you encounter in order to improve Ghostery and its list of tracking services and companies.
Using the Web is never anonymous—every Website knows when you connect, and your ISP or employer can likely put together a detailed record of everything you do online. But that doesn't mean you've got no control over who tracks your Web-browsing activity. The organization behind Ghostery claims that its ultimate goal is for advertisers to be more open about how they track activity and to give consumers more control over when and where that activity is tracked. If you're concerned about such tracking, Ghostery is a good start.