Looking to show off your iOS device's AirPlay functionality, but don't have an Apple TV or AirPort Express? The no-frills AirServer turns your Mac into a AirPlay receiver, letting you stream audio, photos, and even videos to your computer, right over the air.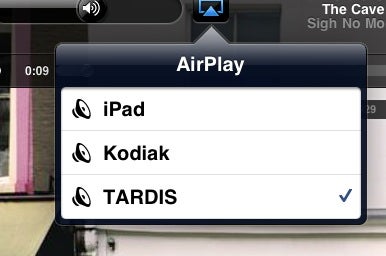 Once installed, AirServer sits unobtrusively in your Mac's menu bar, dormant until you select your computer as an AirPlay receiver from your iOS device. Simply tap the AirPlay icon in any media-playback app that supports it, and select your computer from the pop-up menu. Your media starts playing on your Mac pretty much instantly (though video may take a second or two to buffer). And because you're within Apple's ecosystem, it even works with DRM-protected audio and video content purchased from the iTunes Store.
As with streaming media to an Apple TV or AirPort Express, you can control the volume from your iOS device, as well as scrubbing through the song or video, playing and pausing, skipping to the next or previous track, and so on. Photos can be displayed one at a time or as a slideshow (though I noticed some issues with transitions not displaying).
Overall, it's a handy way to show off video or photos without forcing everyone to crowd around your iPad or iPhone. While it would be convenient for Apple to build this capability into the Mac OS (making it easy to show off pictures of the kids when you're at grandma's house, for example), AirServer ably plugs the gap in the meantime.
AirServer costs $3 and requires Mac OS X 10.5 or later, iTunes 10.2.0 or later, and an AirPlay-capable device running iOS 4.2.1 or later for video streaming (audio streaming requires only iTunes 10.0.1 or later).