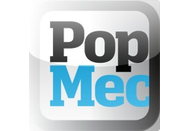 The Wall Street Journal reports that Hearst will begin selling iPad subscriptions to Esquire, Popular Mechanics, and O, The Oprah Magazine after negotiating a unique deal with Apple.
Hearst would be one of the first major magazine publishers to take advantage of Apple's iOS subscription program. Many publishers have been hesitant to embrace Apple's model not because of Apple's 30 percent cut, but rather over concerns about which party controls subscriber data. Apple's terms state that its customers can choose whether to share their personal data with the seller when ordering subscriptions via iOS; publishers are accustomed to owning such subscriber data—and profiting from it.
Hearst, however, may not be beholden to Apple's published rules. The Journal quotes a Hearst spokeswoman as saying that "We came to a fair and equitable deal" with Apple for subscriptions, though the nature of that deal has not been detailed. It seems unlikely that Apple would back down on its policy of sharing subscriber data, however—if it did, then you can bet that every other publisher selling subscriptions on the iPad would clamor for the same treatment.
Esquire, Popular Mechanics, and O, The Oprah Magazine will go on sale under the new model beginning in July, for $2 per month or $20 per year. (Esquire is currently distributed as a separate app each month, with a cost of $5 per issue.) Hearst says that it will eventually sell newspaper apps and other content with iPad subscriptions, too; the company owns the San Francisco Chronicle, Houston Chronicle, and the now online-only Seattle Post-Intelligencer.
Many other magazines currently available on the iPad—like Time, Sports Illustrated, Fortune, and People—sell each issue as separate in-app purchases, with free subscription access available only to print subscribers. That approach would also seem to fly in the face of Apple's published guidelines, which state that publishers must meet or beat any subscription rates offered outside the App Store within their apps.
It seems clear that Apple's formerly hardline stance on subscription rules is evolving. What's less clear, though, is whether Apple will formally update its policies, or continue striking one-off deals with larger publishers.