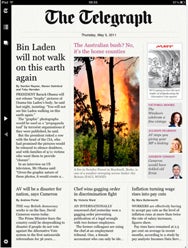 The Daily Telegraph iPad app has been updated to incorporate Apple's subscription-billing system.
The free app is available to download from the App Store but access to the electronic editions will cost you $2 a time or $17 per month.
Existing subscribers to the newspaper can get free access to the app by entering their subscriber number and password.
According to Telegraph Media Group's description of the app on iTunes, The Telegraph for iPad brings "agenda-setting journalism, outstanding multimedia content and interactive crosswords [that] can be enjoyed seven days a week."
Version 2.0 of the app also offers a 30-day archive and a night-reading mode. The new edition appears at 5 a.m. GMT each morning.
The Daily Telegraph iPad app first launched in September 2010 and initially offered free access to the Telegraph's content.
[via Mobile Entertainment ]