After providing iPhone and iPod touch users with a no-cost texting alternative, Pinger has taken its free text and picture messaging act to the iPad.
The company's Textfree for iPad takes Pinger's Textfree Unlimited offering an optimizes it for Apple's tablet. The iPad version actually arrived on the App Store last week, but Pinger is only now starting to publicize its availability.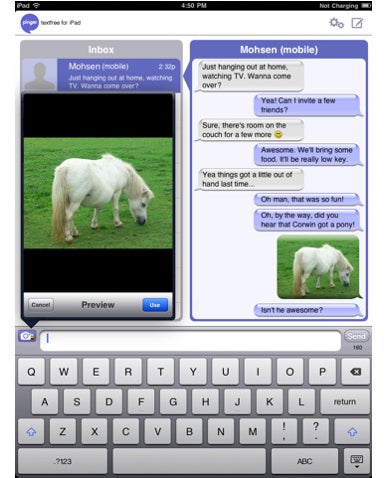 As with the original version of Textfree, the iPad release lets users send text and MMS messages from their iOS device without racking up texting charges or signing up with a carrier for service—an appealing prospect if you happen to own a Wi-Fi-only iPad. The app assigns you a number, meaning owners of multiple OS devices can text for free from the same account on their iPhone, iPod touch, and iPad. And Pinger's Website also offers a Web interface for the Textfree service where you can not only send text and pictures but view any messages from the past 72 hours.
The iPad version of Textfree stands out from the original iOS release by using the ample screen space provided by Apple's tablet. You can see more of your text conversations in Textfree for iPad, notes Joe Sipher, Pinger's co-founder and chief marketing officer. And he adds that the larger on-screen keypad on the iPad is a welcome feature for texters.
"[The app] is really optimized around the ergonomics of the iPad," Sipher told Macworld.
One thing you won't find in Textfree for iPad is a voice component, as featured in another Pinger iPhone offering, Textfree with Voice. That app, which debuted last December, adds voice capabilities to Textfree's texting and picture messaging features. Sipher says his company thinks the iPad is not yet optimized for voice-driven apps and that Pinger decided to put its emphasis on producing an iPad-optimized version of its basic texting app first.
"We thought it was better to give iPad users the full functionality of texting versus having them wait months for voice capabilities," said Sipher, adding that an iPad-optimized voice offering remains under consideration.
The market certainly seems to be clamoring for apps that offer some form of free calling features. Since its December launch, Textfree with Voice has been a mainstay among the most downloaded free social networking apps in the App Store.
In addition to free texting and MMS messaging, Textfree with Voice offers free incoming calls and free calls to other Textfree users as well as integration with Facebook's chat feature. Users can also tap into prepaid minutes to place calls to other people.
Textfree with Voice users can buy minutes through in-app purchases, but they can also earn them through activities in the app. (In fact, Sipher says roughly 80 percent of users earn minutes through activities.) Previously, that had meant downloading other apps, though Apple is reportedly taking a hard line toward incentivized downloads. Pinger plans to shift toward different minute-earning activities such as surveys and videos for Textfree with Voice users, Sipher says.