Although Apple has avoided calling them iPIM, Address Book, iCal, and Mail form the core of personal information management on the Mac. With so many Mac users depending on those three apps to keep their lives in order, it's not surprising that, when those users have problems have problems with those apps, they call Mac 911. Here are the questions I get most often and my answers to them.
When I open Address Book, I see lots of duplicate contacts; some of the information in the duplicated contacts doesn't match.
You can combine those dupes. Open Address Book and choose Card -> Look For Duplicates. Address Book will do exactly that and eventually produce a sheet that details the number of duplicate cards and duplicated entries. Click Merge, and the information from cards deemed duplicates will be merged into a single card. You'll also see an option allowing you to merge cards that have the same name but contain different information. Unless you know an awful lot of John Smiths and Mary Joneses, go right ahead and enable that option. Those contacts will also be merged.
I need to transfer my contacts to another Mac and to my Windows PC at work.
Transferring contacts to another Mac is easy: In Address Book, choose File -> Export -> Address Book Archive. Copy the resulting archive to the other Mac, launch Address Book on that Mac, and choose File -> Import. Find the archive and click Open.
Transferring contacts to a Windows PC is trickier: You must export your contacts in vCard format. But if you choose File -> Export -> Export vCard in Address Book, all of your contacts will be exported to a single vCard, which many Windows apps can't read; you need to export each one to an individual vCard.
To do that, create a folder on the desktop for your exported contacts, select those contacts in Address Book, and, while holding down the Option key, drag the contacts to the folder you created. They will export as individual files, ready to be transferred to your PC.
How can I sync iCal with my Google calendars?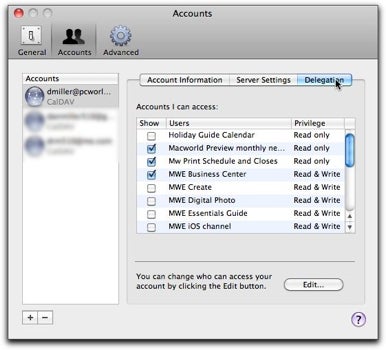 Launch iCal, choose iCal -> Preferences, and click the Accounts tab in the resulting window. Click the plus-sign (+) button at the bottom of the window. In the Add An Account sheet, choose Google from the Account Type pop-up menu, enter your Gmail address and password in the appropriate fields, and click the Create button. iCal verifies the account and adds it to iCal. In iCal's list of calendars, you'll see a new calendar group called yourgmailname@gmail.com containing one calendar. To add other calendars associated with your Gmail account, click the Delegation tab in the Accounts window and enable the calendars you'd like to view and edit in iCal.
How do I create iCal events so they appear at the correct local time when I travel?
Open iCal's preferences, select the Advanced tab, and enable Turn On Time Zone Support. The time zone for your current location will appear in the top right corner of the iCal window.
Now create an event for when you'll be traveling. Let's say you live in Maine and need to schedule a 10 a.m. meeting for when you're in California. Create the event at home in Maine, enter 10 a.m. as the start time, and, from the event's Time Zone pop-up menu, choose Pacific Time. (If you don't see Pacific Time, choose Other and select it on the map.) On your calendar—which now displays Eastern Time—the event will appear at 1 p.m. (or 10 a.m. Pacific Time).
When you reach California, iCal should display Pacific Time. (If it doesn't, choose it from the pop-up menu at the top of the window.) The event should appear at 10 a.m., where it belongs. To create an event that doesn't shift based on time zone—it occurs at 10 a.m. regardless of where your Mac thinks it is—choose Floating from the event's Time Zone pop-up menu.
When I create a new message in Mail and enter the first few letters of the addressee, I see a list of old contacts I no longer use.
First, choose Window -> Previous Recipients and, in the Previous Recipients window, select all the entries and click Remove From List. You can purge this list more thoroughly by quitting Mail, navigating to youruserfolder/Library/Application Support/AddressBook, and tossing out the MailRecents-v4.abcdmr file. When you relaunch Mail, the Previous Recipients window should be clear; you should get fewer autocompleted entries when you address your next e-mail message.
As for old contacts that appear because they're in your Address Book, the only way to remove them is to launch Address Book and weed them out, one by one.
Mail asks for my account password every time I check for new messages. I've told it to remember my passwords, but it won't.
This constant password nagging hints that there's a problem with the keychain where your e-mail password is stored. (If you were randomly asked to enter a password—sometimes yes, sometimes no—then I'd cock a stern eyebrow at your ISP instead.)
Open Keychain Access and choose Keychain First Aid from the Keychain Access menu. In the resulting window enter your administrator's password, enable the Verify option, and click Start. With luck, some red entries will appear in the window, indicating that there's a problem with your keychain. Now enable the Repair option and click Start. With the same measure of luck, those keychain problems will be repaired and Mail will no longer harangue you for a password.
If it continues to, you could try deleting and recreating the account. Before you do that, select the account in Mail's Mailboxes list, hold down the Control key, and click on the account's Inbox. Choose Archive Mailbox from the menu that appears and choose a place to save your archive when prompted. Doing this ensures that the messages for the account aren't completely vaporized when you delete the account. Ditto for the account's Sent messages if you like to keep such things.
Now choose Mail > Preferences > Accounts, select the troublesome account in the Accounts list, and click the minus-sign (–) button to delete the account. Click the plus-sign (+) button and recreate the account.
My junk filter in Mail isn't working; I keep getting spam, even when I mark a message as junk.
If you've studiously taught Mail what is and isn't junk but it's not learning, reset Mail's junk-mail settings by opening Mail's Preferences, clicking the Junk Mail tab, and then clicking the Reset button.
To begin anew, in this same Junk Mail window select the Enable Junk Mail Filtering option. As you're just starting out, enable the Mark As Junk Mail But Leave It In My Inbox option. With this option on, messages that Mail believes are junk will be marked in brown. By leaving them in your inbox, you can first see if the junk mail filter is working and then identify mail marked as junk.
Scan your inbox and verify that what Mail is calling junk really is junk. If it isn't, highlight the good messages and click the Not Junk button in Mail's toolbar. Look for messages that are junk but haven't been marked as such; if you find one, highlight it and click the Junk button in Mail's toolbar. Over time, Mail will "learn" to better pinpoint junk messages. Once it's learned to identify junk mail to your satisfaction, go back to the Junk Mail preferences tab and enable the Move It To The Junk Mailbox option. Mail will then automatically move mail it has identified as junk to a Junk folder (under On My Mac in the Mailboxes pane).
If you have a severe junk-mail problem that Mail can't deal with, get C-Command Software's $30 SpamSieve ( )—the most effective spam-filtering tool I've ever used.
Bonus tip: You can transfer Mail's junk-mail filter to another Mac, so you don't have to retrain Mail on a new Mac. Locate LSMMap2 in youruserfolder/Library/Mail, and transfer it to the same location on the other Mac (replacing that Mac's copy). Mail's filtering on that other Mac will then be just as effective as it is on the first.