At a Glance
Expert's Rating
Our Verdict
A hard plastic shell provides protection, while a grippable strip of rubber on the sides gives you something to hold on to.
Case-Mate's Pop case not only provides protection for your iPhone 4, it also gives you something to hold on to.
The case features a hard plastic shell that covers the back and sides of your phone. Raised ridges along the front edge keep your iPhone from coming into contact with any surfaces should you set it face-down; Case-Mate also provides you with a screen protection kit, with instructions on how to apply the protective film, along with a cloth.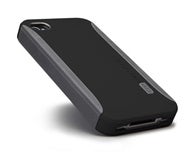 None of that is really different from many of the other iPhone 4 cases out there. So what makes the Pop stand out? Case-Mate covers the side of the case with a very grippable strip of rubber. It makes a Pop-enclosed iPhone 4 feel quite secure in your hand, even as the plastic shell guards against any unwanted shocks. The rubber grips come almost entirely in gray, but you can choose between eight colors for the Pop's plastic frame. (One option features a gray plastic frame and black rubber grips.)
Openings in the Pop let you access the dock-connector port on the bottom of the phone, the ring/silent switch on the side, and the headphone jack up top. (There's also an opening in the back for the phone's rear-facing camera.) The headphone jack opening is wide enough to fit most earphone plugs. The opening for the ring/silent switch, however, is very narrow—I really had to dig down in there to flip on the iPhone 4's silent mode.
Raised buttons on the side and top of the Pop case allow you to operate the volume and sleep/wake buttons, respectively. The Pop's buttons really stand out, making them easy to find and press even if your eyes aren't on the phone.
Case-Mate's Website lists the Pop Case as built for Verizon's version of the iPhone 4. But in my testing, I found it fit AT&T's GSM-based model just as easily.
As with any rigid case, popping your phone in and out can be a bit of chore. But the rugged protection provided by the case coupled with its easy-to-grip sides provides little reason to ever remove your iPhone 4 from the Pop's friendly confines.
[Philip Michaels is executive editor of Macworld.com.]