It took 20 hours of waiting in line. But by 8 a.m. on Friday morning, 48-year-old Yu Hong had finally gotten her hands on Apple's iPad 2.
"I love it. I've been waiting so long for this," she said. "I can finally have what I've been dreaming of."
Yu was first in line in a massive crowd of hundreds waiting outside an Apple store in Beijing. The Wi-Fi version of the iPad 2 finally launched in China on Friday, almost two months after it went on sale in the U.S.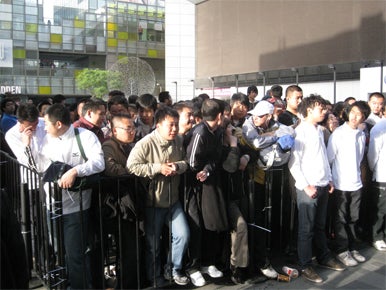 The launch of the iPad 2 is likely to raise Apple's share in the country's tablet market, said Sun Peilin, an analyst with Beijing-based research firm, Analysys International. Apple already has a 78 percent share of the country's tablet market.
The iPad 2 has already been unofficially available on the market, through sellers who bought the devices overseas, and are selling them for a higher price in China, Sun said. "Apple's official launch of the iPad 2, will help stabilize prices, and encourage more consumers to buy it," he added. The first generation iPad have already been selling well in China, specially after a price cut following the announcement of the iPad 2, Sun said.
Making the product difficult to buy is part of Apple's strategy, said 28-year-old Liu Tong. Apple is selling the iPad through its own stores, resellers, and online. But there don't seem to be enough of them going around for eager buyers. "Their strategy is to get people to wait in line at their stores. This will make people want their products even more," Liu said.
Liu waited in line for 12 hours, but plans to sell off his iPad 2. He works as a gadget retailer, and sells to consumers outside of Beijing.
"I don't know how much I'll sell it for, but I know it will sell well," he added.
Many of those in line waited through the night, sleepless. That was the case with 24-year-old Zhao Xuan who carried with him a green plastic stool as he stood in line. He had been waiting for about eight hours, but said he was still excited.
"In China, tablets are becoming more popular. When you go on the subway, you see a lot of people are already carrying them," said Zhao, who works as a financial investment manager. "The devices are small and light, but powerful. I think China will be a huge market for tablets."
Tablet sales are expected to reach 4.5 million units in China in 2011, growing from 600,000 units sold last year, according to Analysys International.
Chinese consumers have endured long lines outside Beijing's two Apple stores before. Last year, the launch of iPhone 4 drew even larger crowds, which resulted in shortages of the iconic phone.
Other tablet makers such as Lenovo, Motorola and Dell are also releasing their own devices to the Chinese market. But for devoted Apple fans, the competition doesn't measure up.
"I don't like those other tablets," said 40-year-old Huang Wei, who waited in line for more than 10 hours. "I have all of Apple's products. I just need to have an iPad."