Other World Computing (OWC) has announced the Mercury Aura Pro Express 480GB, which the company says is the largest high performance solid state drive available for the 2010 MacBook Air. The full Mercury Aura Pro Express line offers solid state upgrades for both the 11.6-inch and 13.3-inch Airs, in 180GB, 240GB, 360GB, and 480GB sizes.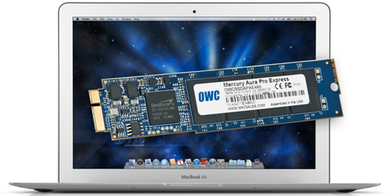 OWC, which says it is the only company making third-party drives for the 2010 MacBook Air, claims that its drives perform up to 68 percent faster than Apple's stock Air drives in real-world use, with peak data rates of 275MB per second. The company also says that unlike other solid state drives, the Mercury Aura Pro Express drives won't suffer from transfer speed reduction with heavy use.
Speed and size will cost you, though. The smallest entry in line, the 180GB drive, costs $480; the big 480GB drive costs an eye-popping $1580—barely less than a full 256GB 13-inch Mac Book Air itself.
The drives offer chip-based data encryption, and use SandForce RAISE (Redundant Array of Indepedent Silicon Elements) technology to provide RAID-like protection without a performance hit.