This week's iPad case roundup features a number of elegant leather accessories—some with unique designs and great features that make them both beautiful and functional. If leather isn't your thing, though, fear not—we have our usual eclectic mix of covers, cases, and sleeves for you to choose from.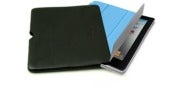 Bella: You can't fault Bella for calling its latest iPad sleeve "Leather" (iPad 2; $60)—after all, the company specializes in products made with the finest animal hide. This particular model is available in hand-stitched black leather and is designed to work exclusively with the iPad 2 and Apple's Smart Case.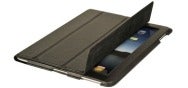 Beyzacases: The Executive II (iPad 2; €117) is made of fine leather and features a design similar to that of Apple's Smart Case—including the magnetic closure—except that it protects the entire device. The Executive II is available in black, tan, red, or cream.
The Thinvelope (iPad 2; €117), as its name suggests, is an envelope-like sleeve. It comes in black, brown, or red leather. Finally, the Zero Series (iPad 2; €50) is a thin sleeve that features a more traditional look. It comes in black, brown, red, dark brown, or cream.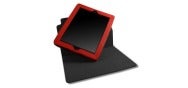 Boomwave: The Twist (iPad 2; $45) is a folio that, as its name implies, mounts your iPad 2 on a swivelling harness, thus allowing operation as a stand in both portrait and landscape mode. It comes in red, blue, or black.
The Strapz (iPad & iPad 2; $43) is a sleeve made of cowhide leather with neoprene accents. Designed to protect your tablet from dust and scratches, it comes in black/green, black/orange, or black/blue.
Rounding up Boomwave's lineup is the Kix (iPad & iPad 2; $38), a form-fitting carrying pouch that can open up and fold over to act as a typing platform. The Kix is available in black with red or pink accents.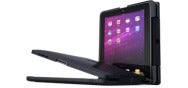 ClamCase: The ClamCase combines a Bluetooth keyboard, case, and stand in one accessory that cleverly adapts to each use scenario without getting in the way by folding and flipping in several different ways—it even includes a full row of function keys, just like Apple's own keyboard. The company has announced an updated version designed specifically for the iPad 2, as well as a special Trooper Limited Edition version that sports a white-with-black-trim design. Both versions will be available this summer for $149, although you can pre-order for $119 directly from the vendor's Website.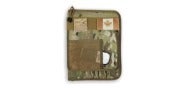 CPGear: The military-themed Tactical iPad Protector (iPad & iPad 2; $39) is a case designed to hold your tablet safe and secure in the field with plenty of padding and enough pockets to take care of your phone, cables, headsets, and more. It also sports a Canadian flag—which, for this resident of the True North, is in itself a sufficient reason to buy anything—and can be even customized with your name printed on a military-issue sewn-on tape for a small additional fee.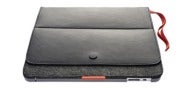 EOPStech: The Outercover (iPad; price unavailable) combines a carbon-fiber shell with a foldable case made of a natural material. It can be arranged as a stand in landscape mode, or as a typing platform, and also includes a document holder and handstrap. The Outercover comes in three different configurations of non-woven felt and sheep leather, and is slated to be released soon.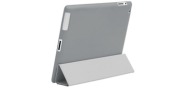 Hypershop: The Hypershield (iPad 2; $20) is a snap-on shell made of sturdy thermoplastic polyurethane (TPU) and designed to work with Apple's Smart Cover. The Hypershield comes in twelve different colors—grey, blue, green, orange, pink, clear, cream, tan, black, navy, or red—aimed to match the hues of the Smart Cover.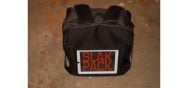 SlakPack: From entrepreneur Jack Malone comes this ingenious backpack (iPad & iPad 2; see site for pricing) that features a 10-inch-tablet pocket on its back, allowing you to use your iPad while you're on the go without having to retrieve it from the bag. Malone has put the SlakPack on Kickstarter as a crowd-funded project and is looking for financial backing to make his dream a reality.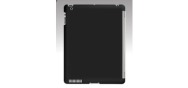 Switcheasy: The CoverBuddy (iPad 2; $25) is a snap-on case made of tough polycarbonate designed to protect the back of your tablet while retaining compatibility with Apple's Smart Cover.
The CoverBuddy comes in clear, black, grey, blue, or pink and features all the appropriate openings to guarantee access to the iPad 2's ports and back camera.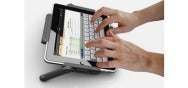 TabGrip: The TabGrip (iPad & iPad 2; $40) eschews the traditional look that we've come to associate with tablet cases in favour of a simpler design that offers a number of its own advantages. The tabs on the side of the TabGrip offer an excellent grip for holding the device in either orientation, and you can fold out any of the tabs to turn them into convenient stands for viewing and typing. The company has announced a new version compatible with the iPad 2.
iPad (1st generation) Family