City of Secrets features gorgeous graphics, clever dialogue, and terrific voice work. It's just too bad that there's not a compelling game in there, too.
Available for either the iPad (City of Secrets HD) or the iPhone/iPod touch (City of Secrets), this mobile adventure game has you follow along with Mr. Moles and his canine friend Rex as they explore the subterranean metropolis of Poco Pane. Rex has fallen through a crater in Mr. Moles' basement and into Poco Pane—something the local authorities frown upon. You've got to spring Rex from prison and then go about unraveling the shady circumstances surrounding Poco Pane's recent revolution and the mysterious mayor who assumed control of the city. You do all this by pointing and touching in the traditional adventure game manner—picking up items, combining them into new objects, and solving puzzles along the way.
Developer Aidem Media should be commended for creating a spectacular world in Poco Pane. The graphics are highly detailed—roots from the above-world twist around the scenery, distinctive-looking moles dot the landscape, and shadows add to the mysterious atmosphere. The look-and-feel of the game is particularly striking on the iPad's larger screen (and, conversely, somewhat more difficult to appreciate on the iPhone). That said, some of the scenes are darkly lit—even after the recent 1.1 update looked to fix that issue—which can make finding the items you need to collect a bit more of a challenge than it needs to be.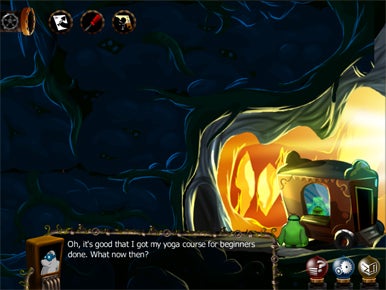 City of Secrets is full of sly humor. An absurdist streak runs through the game, and some of the jokes about Poco Pane's bureaucratic red tape constitute satire reminiscent of a Monty Python sketch. Aidem Media throws in a few knowing winks about the adventure game genre itself—it's quite clear the people who put City of Secrets together had a lot of fun doing so. They also clearly put a lot of effort into lining up some top-notch vocal performances, as each of the denizens of Poco Pane speak in a distinctive, entertaining voice.
As fun and inventive as a lot of these aspects are, they don't make up for the fact that City of Secrets is a pretty dull game. The puzzles aren't terribly engaging and often require you to find hard-to-spot items in dimly lit scenes. Other puzzles, like trying to harvest ripened beets or finding the right combination to unlock a chute, involved nothing more than trial-and-error tapping—seemingly as part of a battle to see whether the game or me would become too bored to continue. (I outlasted the game… barely.) City of Secrets helpfully includes a hints button to prod you along, but I found myself constantly tapping it just to figure out what to do next. My brain didn't feel teased so much as it felt lightly scolded.
Games of this sort move at a different pace than side-scrolling action games or shoot 'em ups. Even with that in mind, City of Secrets feels a little plodding. A lot of the tasks require you to wander between different parts of Poco Pane; because the game is so detailed, however, that means waiting for scenes to load each time you have to wander to a new part of the city. That grows pretty tiresome after a while. And as clever as the dialogue and voice work may be, since it also appears via on-screen captions, you may wind up doing what I frequently did—speed-reading through the captions and tapping to skip the dialogue, just to pep things up.
Plenty of adventure game enthusiasts will be perfectly happy with City of Secrets, even if the game didn't ring my bell. Fortunately, Aidem Media makes it very easy to find out for yourself. The developer offers free versions for both the iPad and iPhone, letting you play through the opening scenes before asking you if you want to upgrade to the full paid version. I hope iOS gamers take them up on the offer, as there's certainly enough promise in City of Secrets to make it worth a look. Unfortunately, there's just not enough execution there to hold my attention or to make me want to come back for more.
[Philip Michaels is executive editor of Macworld.com.]