At a Glance
Expert's Rating
Pros
Fast performance from Sandy Bridge quad-core processor
Fast hard drive
Facetime HD camera
Thunderbolt port
Cons
Slower 3D performance compared to other models
No SSD option
No anti-glare screen option
Our Verdict
The latest iMac models introduced by Apple this month benefit greatly from new Intel processors and greater device connectivity. Both changes offer users unprecedented speed from the iMac lineup.
Apple offers four standard configuration models. The new entry-level $1199 21.5-inch iMac has a 2.5GHz Core i5 quad core processor, a 500GB hard drive, and AMD Radeon HD 6750M graphics with 512MB of video memory. The $1499 21.5-inch iMac has a 2.7GHz Core i5 quad core processor, a 1TB hard drive, and AMD Radeon HD 6770M graphics with 512MB of video memory. The $1699 27-inch iMac has the same processor, memory, and graphics as the $1499 iMac. At the top of the line sits a $1999 27-inch iMac with a 3.1GHz Core i5 quad core processor, a 1TB hard drive, and AMD Radeon HD 6970M graphics with 1GB of video memory.
All iMacs include an Apple Wireless Keyboard ( ) and Magic Mouse ( ). If you buy an iMac through the Apple Online Store, you can swap the Magic Mouse for a Magic Trackpad ( ) at no additional cost. If you think that the Magic Trackpad is a better input device, that's good news.
Inside the iMac
Each new standard-configuration iMac features a Core i5 quad-core processor. Based on Intel's Sandy Bridge microarchitecture, the processors integrate the CPU, cache, and memory controller on one chip, allowing for fast data access over fewer buses. Each iMac has 6MB of shared L3 cache and support for Intel's Turbo Boost 2.0, which allows the processor to automatically speed up cores when needed.
However, the Core i5 processors in the standard-configuration iMacs do not have Intel's Hyper-Threading technology, which creates two virtual cores for each physical core present in the processor, improving performance. To get an iMac with a processor that has both Turbo Boost and Hyper-Threading, you'll have to select the $200 Core i7 upgrade option for the $1499 21.5-inch iMac or $1999 27-inch iMac. (The standard-configuration Mac Pros and MacBook Pros have both Hyper-Threading and Turbo Boost.)
All iMacs come standard with 4GB of memory, installed as a pair of 2GB modules. When you order an iMac through the Apple Online Store, you have the option to upgrade the memory to 8GB (a pair of 4GB modules) on all iMac models for $200, or to 16GB (four 4GB modules) on the 27-inch models for $600. The iMac has four memory slots located at the bottom of the iMac that are user-accessible. Since two slots are empty when you buy an standard-configuration iMac, you can easily add more memory. The 21.5 inch iMac has support for up to 16GB of memory; third party companies are offering 32GB memory upgrades for the new 27-inch iMac.
The $1199 21.5-inch iMac has a 500GB, 7200-rpm hard drive and no upgrade options. The three other iMac models each have a 1TB 7200-rpm hard drive and options to upgrade to a 2TB hard drive for $150, a 256GB solid-state drive (SSD) for $500, or a combination of a 256GB SSD and either a 1TB 7200-rpm hard drive ($600) or a 2TB 7200-rpm hard drive ($750). Do-it-yourself storage upgrades are possible with the new iMac, but it requires a good amount of skill and intestinal fortitude on the user's part—opening up the case involves using suction cups to remove the front pane of glass that is held in place by magnets. Such upgrades void your warranty, which may also be a deterrent from performing the surgery.
The new iMacs have support for Serial ATA-3 (SATA-3) drives capable of 6GBps speed, but the drives Apple installs and the BTO storage options conform to the SATA-2 specification and are capable of 3GBps speed. SATA-3 drives are becoming more common, however, and it's possible that Apple could offer SATA-3 drives in the future. Some companies, such as OWC, offer iMac upgrade services that can be used to install a SATA-3 drive. [Editor's note: OWC is reporting that the new iMacs use a proprietary cable that restricts the ability to upgrade the storage devices yourself.]
The new iMacs have a slot-loading, 8X SuperDrive that can burn dual-layer DVDs at 4X speeds, and a SDXD card slot for easy transfer of photo and video files from SD cards used in cameras and camcorders.
Thunderbolt
The catch is that at the time of the iMac's release, Thunderbolt cables, drives, or adapters were not available, and it may be a while before Thunderbolt peripherals hit the market. When Thunderbolt was introduced with the MacBook Pro earlier this year, several companies said they had Thunderbolt products in the works, but many did not provide a solid timeline as to when products will be available to the public. So right now, Thunderbolt isn't the sole reason you should buy a new iMac, and fortunately, the iMac didn't lose any ports to make room for Thunderbolt. The iMac has four USB 2.0 ports and a FireWire 800 port to connect external hard drives, printers, and other devices.
The 2010 27-inch iMac allowed for external HDMI-based video sources (such as a Blu-ray player or game console) if you had an HDMI-to-Mini DisplayPort adapter—those adapters won't work with the new iMacs, which require an HDMI-to-Thunderbolt adapter that isn't available yet. If you have a Thunderbolt-equipped MacBook Pro, you can use the new iMac's Target Display Mode feature, which allows you to use the iMac as a second display for the MacBook Pro. But again, the Thunderbolt cable that's required to use the Target Display Mode feature wasn't available during this review.
Glass displays
The new iMacs use the same bright, colorful, glass-fronted, 16:9 aspect ratio, LED backlit, IPS displays as found in the previous iMac. The 21.5-inch iMac has a native resolution of 1920 by 1080 pixels, while the 27-inch iMacs are 2560 by 1440 pixels. IPS offers wide viewing angles, and the bright glossy screen helps give photos depth.
As we've experienced from past iMac reviews, many readers complain about the glare and reflectiveness from the iMac's glass display, but it should be apparent by now that Apple prefers these screens and an anti-glare option will probably never be available. With a desktop computer like the iMac, you'll have to plan your workspace appropriately to cope with the glare and relfections.
Looking at a variety of test images on the four iMac models, I didn't find any uniformity issues on the displays, but I did find one stuck pixel on the 27-inch 2.7GHz model that I hadn't noticed until viewing a completely black screen.
FaceTime HD
At the top of the iMac sits a new FaceTime HD camera. With the FaceTime application, the new camera allows you to make video calls to other FaceTime clients in 720p resolution. Some applications, such as PhotoBooth, don't yet have support for 720p resolution. It's up to the application developers to update their software.
I found subtle differences between the iSight camera on the older iMacs and the FaceTime HD camera when video chatting with a person, but there was a much higher level of detail from the FaceTime HD camera when looking at a document held in front of each camera.
iMacs (Mid 2011): Speedmark 6.5 scores
Results from Macworld Lab's overall system performance test suite, Speedmark 6.5, showed that the four new Sandy Bridge iMacs are considerably faster than the systems they replace. The new $1199 21.5-inch 2.5GHz Core i5 quad core iMac was nearly 24 percent faster overall than last year's entry-level 21.5-inch iMac, which had a 3.06GHz Core i3 dual core processor. As you would expect, the new iMac showed the most improvement in applications that could take advantage of four processing cores.
The new $1199 iMac even beat out last year's high-end standard configuration model, a 27-inch 2.8GHz Core i5 quad core iMac by nearly 10 percent. In this case, the processor-intensive tests were very close, but the file duplication, zipping and unzipping a folder, and opening a Word document in Pages were all considerably faster on the new $1199 iMac.
The new $1699 27-inch 2.7GHz Core i5 iMac was 25 percent faster overall than the 27-inch 3.2GHz Core i3 dual core iMac from last year. The older 3.2GHz Core i3 iMac outperformed the new 2.7GHz Core i5 iMac in its file duplication and unzip tasks, but the new 2.7GHz system was faster (up to 70 percent faster in MathematicaMark tests) in all of our other tests.
The new 27-inch 3.1GHz Core i5 iMac was 16 percent faster than the previous high-end standard configuration iMac, a 27-inch 2.8GHz Core i5 quad core model with a 1TB 7200-rpm hard drive, and ATI Radeon HD 5750 graphics with 1GB of memory.
Surprisingly, when compared to each other, the new iMacs logged similar performance numbers. In fact, only 12 Speedmark points separate the entry-level $1199 21.5-inch 2.5GHz Core i5 iMac and the top-of-the-line $1999 27-inch 3.1GHz Core i5 iMac.
Last week, we posted a complete rundown of our iMac Speedmark 6.5 testing, including results with individual applications that make up the Speedmark 6.5 test suite. You can also see how the new iMacs compare to other Macs in Apple's current lineup, as well as how the new iMacs compare to older Macs.
Graphics boost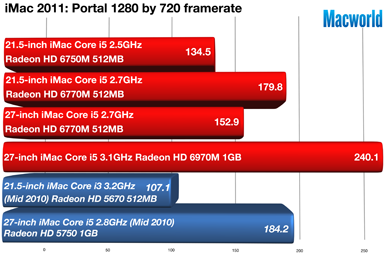 When running Call of Duty 4 at a relatively low resolution, the frame rates were nearly identical across the line. Cranking the resolution to 1920-by-1080 (the 21.5-inch iMac's native resolution) the benefits and weaknesses of the different graphics cards became apparent. The 3.1GHz iMac with its 6970M graphics had frame rates that were 40 percent faster than the 6770M graphics in the 2.7GHz iMacs, and 66 percent faster than the Radeon HD 6750M in the low-end iMac.
We also tested using the game Portal. The 3.1GHz iMac's framerate was 49 percent higher than the 27-inch 2.7GHz model and 35 percent higher than the 21.5-inch 2.7GHz iMac. At 1280-by-720 resolution, the 21.5-inch 2.7GHz model was 11 percent faster at Portal than the 27-inch 2.7GHz iMac when running in a window, or filling the screen.
Macworld's buying advice
The 2011 iMacs bring the product line up to date with the latest Intel's processors and with FaceTime HD cameras, and the inclusion of Thunderbolt and SATA-3 compatible drive connections makes them ready for the next generation of storage devices.
The $1199 entry-level 21.5-inch 2.5GHz Core i5 iMac offers the most bang for the buck, keeping up with its more expensive siblings in most tasks. Its drawbacks include the lowest capacity hard drive, slower 3D game performance at higher resolutions, and a lack of customization options. The $1499 21.5-inch 2.7GHz Core i5 iMac offers a larger hard drive and modest processing and 3D game performance gains compared to the $1199 model. It's the model you must choose if you want to customize your machine with a faster processor or different sotrage options.
For those looking for a larger display, the $1699 27-inch 2.7GHz Core i5 iMac is the better value, since its overall performance isn't that much slower than the high-end $1999 27-inch 3.1GHz Core i5 iMac. However, the $1999 iMac offers much better graphics performance if you're into gaming or do a lot of video or 3D work. It also can be upgraded to a 3.4GHz Core i7 quad core processor ($200).
[James Gabraith is Macworld's lab director.]
Note: When you purchase something after clicking links in our articles, we may earn a small commission. Read our affiliate link policy for more details.