Corel has introduced CorelCAD, a brand new cross-platform CAD (computer-aided design) program targeted to architects, engineers, and a variety of general manufacturing enterprises. This package delivers native DWG support (the industry standard CAD file format), and the ability to navigate between 2D and 3D design environments in cross-platform workgroups.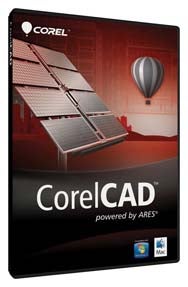 To create and market CorelCAD, the company partnered with Graebert GmbH, a longtime CAD developer. With this new product, Corel offers CAD users what it says is an intuitive environment with familiar command bars, aliases, menus, and toolbars. In addition, CorelCAD is designed to provide excellent compatibility, as it works natively with the AutoCAD DWG file format. That means there's no need for an import/export process to read and write files in the industry standard format. At $699, CorelCAD offers businesses of all sizes an affordable CAD option for day-to-day design projects requiring a high level of precision and detail, the company says.
"The high cost of many CAD solutions makes it a prohibitive expense for small-to-medium-sized businesses. CorelCAD represents a great alternative, particularly for technical designers seeking power and precision at an affordable price," said Klaus Vossen, product manager for technical graphics at Corel. "We're confident that CorelCAD's combination of price and performance will provide a compelling alternative for architects, engineers, construction firms and any enterprise seeking precision tools for 2D and 3D design."
CorelCAD features file format support, customization, and ease of integration into existing design workflows, according to Corel. The program can open and save DWG files natively and uses DWG as its native file format. It also offers DXF and DWF support up to AutoCAD 2010 file format versions (used by AutoCAD 2010-AutoCAD 2012). Users can open, work on, and save files in DWG format in collaborative settings. They can also save drawings back to R12 DWG or DXF format, and recover DWG and DXF files in all format versions. The program features export to PDF, ACIS 3D, DWF, and more.
CorelCAD supports designers in both the 2D and 3D space. Alongside a large set of 2D drawing features, the program includes a set of 3D solid modeling tools. Users can add 3D solid primitives to designs and use Boolean operations to unite, intersect, and subtract bodies. Users can also extrude or revolve 2D entities, sweep 2D entities along a path, or loft between 2D entities to create solid objects. In addition, users can slice and intersect solids, and edit edges, faces, and bodies of 3D solids.
CorelCAD is designed to be easily customizable to meet the needs of a variety of businesses and projects. Users can fine-tune the interface and save custom workspace configurations in user profiles. These can be deployed throughout an organization to tailor the interface to specific project needs and to maximize productivity.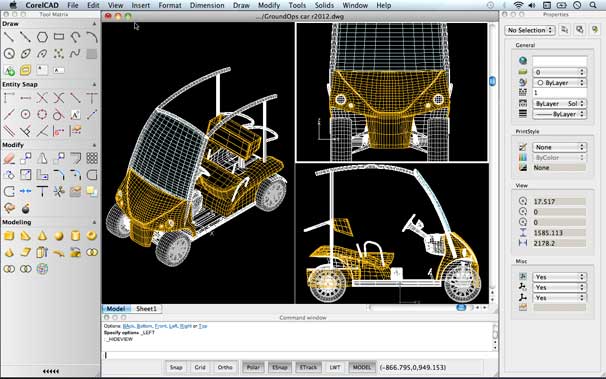 Pricing and availability
CorelCAD is available now in English, German, French, Italian, Spanish, and Portuguese for $699. Versions in Czech, Polish, Russian, Turkish, Simplified Chinese, Traditional Chinese, Korean, and Japanese will be available in the summer of 2011. The program works with Intel Macs on OS X 10.5.8 or higher. Commercial and academic volume licenses are also available.
A free, fully functional trial version and additional information about the new program is available on Corel's Website.