At a Glance
Expert's Rating
Our Verdict
This case — which fits all iPhone 4 models — features two parts that slide together with your iPhone secured inside.
Everything fits into place with the Luxe Original case from iFrogz. This hardshell case for the iPhone 4 comes in two parts—a plastic top and bottom—that fit around your Apple smartphone.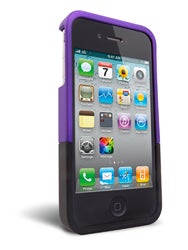 The top portion of the Luxe Original makes up about two-thirds of the case. Slide your iPhone 4 inside—the Luxe fits both AT&T and Verizon models of the phone—and then slide the bottom portion into place. There's a button on the bottom that latches into the slot on the top part—that button is also what you press when you want to spring your iPhone out of the case.
The Luxe Original's two-part approach is similar to what the Proof Duo case offers, though the bottom piece is much smaller in Proof's iPhone 4 offering. I give the Luxe Original a slight edge, because I find its locking system to be a tad more secure. The opening slit on the side of the Luxe Original is also wider. Not only does it make easier to access the volume controls and the ring/silent switch, it also allows the Luxe Original to easily fit any model of iPhone 4 (though the Proof Duo now fits both models of iPhone 4 as well).
A ridge along the front of the Luxe Original keeps your iPhone from coming into contact with surfaces when you lay it face-down. Note that iFrogz doesn't supply you with a protective film for the screen as some other case makers do.
The $30 Luxe Original comes in eight color combinations. In addition to an all-black model, you can also opt to have the top portion come in a variety of colors. The different looks will certainly impress iPhone 4 owners looking to put their own unique stamp on the case, but the Luxe Original's true appeal lies in its secure, easy-to-assemble fit.
[Philip Michaels is the executive editor of Macworld.com.]
Updated on May 16 to reflect changes to the Proof Duo case.