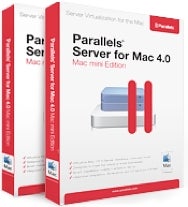 Parallels—best known for software that lets you run Windows on your Mac—has come out with a product that does the same thing for Mac-based servers.
Parallels Server for Mac 4.0 Mac mini edition installs on Macs running OS X Server. Once it's up and running, you can then install Windows and Linux server operating systems on the same machine, and those other OSes can run concurrently with OS X. If you now maintain Windows- or Linux-based servers just to run platform-specific apps such as Microsoft Exchange or customized database or bookkeeping programs, you could instead consolidate everything on a Mac.
As the name indicates, PSM4MME is particularly targeted at those Mac minis with Snow Leopard Server pre-installed ( ). It will run on other Macs, but it's tuned for the mini's relatively modest hardware. It can provide two virtual machines per server and up to two virtual CPUs and 4GB RAM for each virtual machine. By comparison, the full-blown version of Parallels Server for Mac (which is still available) supports 12 virtual CPUs, 64GB of virtual RAM, 16 virtual network interfaces, and 2TB virtual hard drives per virtual machine.
The Mac mini version has also been designed for small- to medium-sized businesses that don't have much in-house server expertise. It has an express installation option, which means it can essentially configure itself. It also has wizards to assist in installing those additional OSes; the company says all you have to do is supply the product keys.
Finally, PSM4MME is priced for the low-end of the market: $299, compared to $1999 for the standard edition.