At a Glance
Expert's Rating
Our Verdict
This translucent "jelly" case wraps around any iPhone 4 to protect its back and sides from scratches.
The Soft Gloss case from iFrogz will provide your iPhone 4 with a decent amount of protection and a fairly eye-catching visual design. But there's little else to distinguish this utilitarian iPhone 4 case.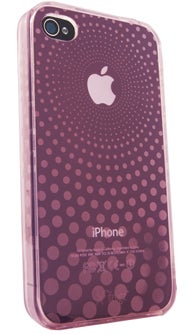 The Soft Gloss uses a thermoplastic polyurethane wrap—iFrogz prefers the term "jelly"—to cover up the back and sides of your iPhone 4. A ridge over the front edge of the phone keeps your iPhone 4 from coming into contact with any surfaces if you set it down with the screen facing down. (iFrogz doesn't include a protective film for the iPhone's screen with the the Soft Gloss case.)
In a way, the Soft Gloss is like the jellied wrap portion of another iFrogz case, the Swerve, although the openings on the former's top and side are slightly different. (More on this in a moment.) Both cases feature the same spiral design with dots circling around the Apple logo on the phone's back side. If you're enamored with that look, I don't see why you wouldn't pony up the extra $10 that makes up the other part of the Swerve's two-piece approach to protection. But for users who prefer a simple wrap instead of a hard plastic frame, the $20 Soft Gloss will do the trick.
Owners of CDMA-based iPhone 4s may want to pause, however. The Soft Gloss has a small opening on the side for accessing the ring/silent switch. On AT&T-model iPhones, the Soft Gloss fits perfectly. But the opening doesn't line up exactly for Verizon phones, so the switch rubs up against the side of the slit, making it more of a challenge to operate and less visually appealing. Note that the openings on the top for the headphone jack and sleep/wake button as well as the raised buttons on the side for controlling volume fit both AT&T and Verizon models equally well.
Though it's translucent, the Soft Gloss comes in four colors to give your phone a distinct tint. The eye-catching effect will please aesthetically minded users, who will also enjoy a decent amount of protection from the case. But Verizon iPhone 4 users may be disappointed with how this case fits their phone.
[Philip Michaels is the executive editor of Macworld.com.]